WASHINGTON - US Democrats were in turmoil on Sunday, with their party chair abruptly announcing her resignation on the eve of the national convention to officially nominate Hillary Clinton as its presidential candidate.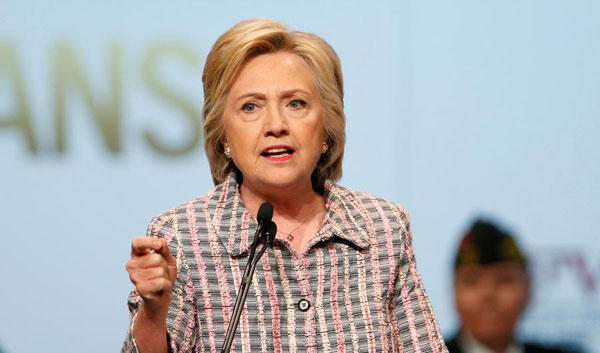 US Democratic presidential candidate Hillary Clinton gestures as she speaks at the Veterans of Foreign Wars Convention in Charlotte, North Carolina, US July 25, 2016. [Photo/Agencies]
Democratic National Committee (DNC) chairwoman Debbie Wasserman Schultz announced Sunday that she would resign at the end of the party convention, amid furor over embarrassing leaked emails showing the DNC's bias against presidential contender Bernie Sanders. 
"The best way for me to accomplish those goals (of this election cycle) is to step down as party chair at the end of this convention. As party chair, this week I will open and close the convention and I will address our delegates about the stakes involved in this election not only for Democrats, but for all Americans," Schultz wrote in a statement.
"We have planned a great and unified convention this week and I hope and expect that the DNC team that has worked so hard to get us to this point will have the strong support of all Democrats in making sure this is the best convention we have ever had," she said.
Donna Brazile, the DNC's vice chairwoman, will step in as interim chairwoman, DNC communications director Luis Miranda tweeted. Brazile previously ran Al Gore's 2000 presidential campaign and is a regular on cable news.
Schultz's announcement came after the release of nearly 20,000 emails by WikiLeaks on Friday, which showed members of the DNC trading ideas for how to undercut the campaign of Sanders, who proved a resilient adversary to Clinton in the Democratic primaries.
The emails detailed the acrimonious split between the DNC and Sanders.
Sanders' supporters said the emails show the Democratic Party rigged its nomination process for Clinton by undermining the challenger's campaign.
In one email, a staffer suggested the DNC spread a negative article about Sanders' supporters; in another, the DNC's chief financial officer suggested that questions about Sanders' faith could undermine his candidacy.
"I think I read he is an atheist," the staffer wrote. "This could make several points difference with my peeps. My Southern Baptist peeps would draw a big difference between a Jew and an atheist."H WikiLeaks said the new cache of emails came from the accounts of seven key figures in the DNC and warned that the release is "part one of our new Hillary Leaks series" -- an indication that more material might become known soon.
The leaked emails include thousands from the Democratic Party's communication director and more than 3,700 emails from its national finance director.
Sanders, who has repeatedly called on Schultz to step down, reiterated his call in an interview with CNN on Sunday, saying he believed that the DNC was supporting Clinton and "at opposition to our campaign all along."
"I don't think she is qualified to be the chair of the DNC, not only for these awful emails, which revealed the prejudice of the DNC, but also because we need a party that reaches out to working people and young people, and I don't think her leadership style is doing that," Sanders said on the eve of the Democratic National Convention in Philadelphia.
"I am not an atheist," he said. "But aside from all of that, it is an outrage and sad that you would have people in important positions in the DNC trying to undermine my campaign. It goes without saying: The function of the DNC is to represent all of the candidates -- to be fair and even-minded."
Republican presidential nominee Donald Trump responded to the incident in a tweet: "Crooked Hillary Clinton was not at all loyal to the person in her rigged system that pushed her over the top, DWS. Too bad Bernie flamed out," using Debbie Wasserman Schultz's initials.
The four-day Democratic National Convention will kick off on Monday in Philadelphia, where Clinton is expected to be officially announced as the party's nominee and Sanders will also make a speech calling for the party's unity.