WASHINGTON - Presumptive US Democratic presidential nominee Hillary Clinton and Virginia Senator Tim Kaine spoke for the first time as running mates at a rally in Miami, Florida on Saturday, two days before the party's convention kicks off in Philadelphia.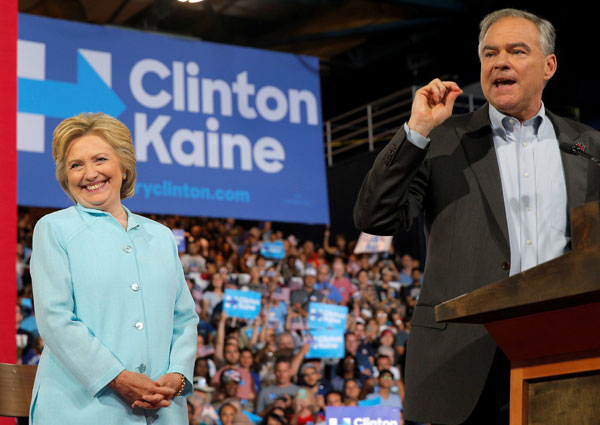 US Democratic presidential candidate Hillary Clinton reacts as Democratic vice presidential candidate Senator Tim Kaine speaks at a campaign rally in Miami, Florida, US July 23, 2016. [Photo/Agencies]
Kaine is "everything Donald Trump and Mike Pence are not," said Clinton, formally introducing her low-key Spanish-fluent ally to the crowd at Florida International University, where the student body is more than half Hispanic.
"He is qualified to step into this job and lead on day one, and he is a progressive who likes to get things down," said the former Secretary of State, with a grinning Kaine at her side.
At ease in the national limelight, Kaine showcased his fluency in Spanish, introduced himself and praising Clinton while attacking the Republican presidential nominee Donald Trump.
"Hillary Clinton is the direct opposite of Donald Trump," he said, claiming he and Clinton are "soulmates in this great fight" for progressive agenda.
"From Atlantic City to his so-called university, he leaves a trail of broken promises and wrecked lives wherever he goes," Kaine said. "We can't afford to let him do the same thing to our country," Kaine said of the New York billionaire, adding that Trump's foreign policy positions are even considered dangerous among Republicans.
"Clinton's smiling attack dog was unleashed," a report from the Politico journal commented.
Since Clinton announced her vice president pick via Tweet and text message to supporters Friday, Trump has been ripping Kaine in a series of tweets, claiming the selection will unnerve supporters of Clinton's formal rival Bernie Sanders and therefore cause a floor fight at the upcoming Democratic convention.
"The Bernie Sanders supporters are furious with the choice of Tim Kaine, who represents the opposite of what Bernie stands for, Philly fight? " Trump tweeted early Saturday morning.
"If you think Crooked Hillary and Corrupt Kaine are going to change anything in Washington, it's just the opposite," Trump campaign senior communications adviser Jason Miller said late Friday night.
As a governor-turned-senator from the pivotal battleground state of Virginia, Kaine is expected to offer a political boost for Clinton among the state's independent voters and moderate Republicans displeased with Trump.
Meanwhile, his fluent Spanish skill is also regarded a big help for Clinton to woo some 55 million Hispanics, a body making up approximately 17 percent of the US population.
Kaine, 58, is a welder's son and grew up in Kansan City where his father owned a small metalworking shop. He mastered Spanish when he took a year off from Harvard Law school to work as a Catholic missionary in Honduras. He is an early supporter of Clinton's campaign and now sits on the Senate Foreign Relations Committee.