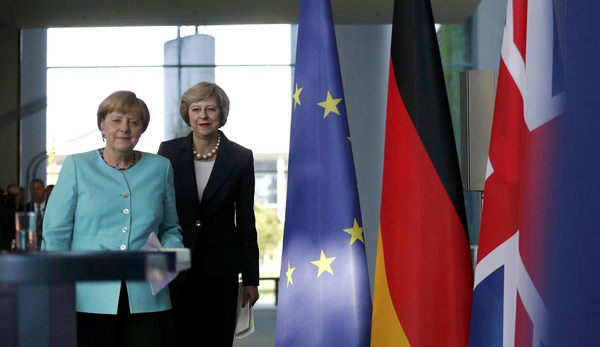 German Chancellor Angela Merkel and British Prime Minister Theresa May arrive for a news conference following talks at the Chancellery in Berlin, Germany July 20, 2016. [Photo/Agencies]
BERLIN - Britain will maintain close economic relations with Germany despite its intention to exit the European Union (EU), Britain's new Prime Minister Theresa May said Wednesday during her visit to Germany.
"Of course, our relations will change, but economic relations will remain close," May said here.
Political developments in Turkey, the refugee issue and Brexit were discussed during May's visit with German Chancellor Angela Merkel. It was the former's first trip abroad after her appointment a week ago.
Merkel, during the meeting, stressed Germany's close partnership with Britain, adding Germany would represent its own interests in upcoming Brexit negotiations, Merkel added.
However, the process could go on in a "friendly atmosphere and on the basis of many common convictions," said Merkel.
Merkel reiterated that negotiations could only start after a formal request from London. "It is a matter of common concern when Britain applies the exit with a very well-defined negotiating position," she said.
May said it would be "part of discussions" in the coming negotiations, whether the British should remain part of the free-trade area without free movement of EU citizens.