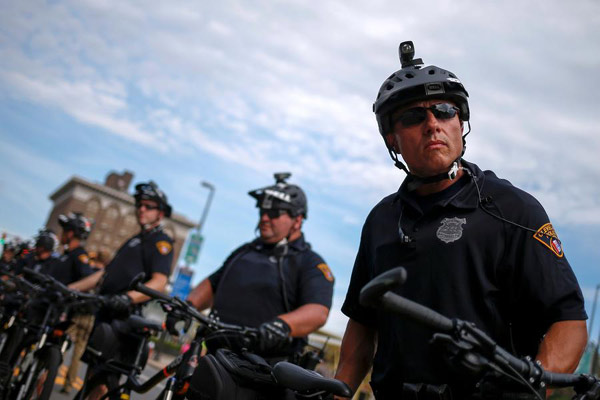 Police officers use bicycles to create cordons around a protest march by various groups, including "Black Lives Matter" and "Shut Down Trump and the RNC," ahead of the Republican National Convention in Cleveland, Ohio, US, July 17, 2016. [Photo/Agencies]
CLEVELAND - Cleveland's police union called for the suspension of a state law allowing people to carry firearms during the Republican National Convention but Ohio's governor said he was powerless to act despite heightened security concerns with the killing on Sunday of three police officers in Louisiana.
Republican Donald Trump seized on the shooting deaths in Baton Rouge, Louisiana, to bolster his case the United States is leaderless and he is the better candidate in the Nov 8 US presidential election to restore law and order than his rival, Democrat Hillary Clinton.
It was not immediately clear there was a link between Sunday's shootings and recent unrest countrywide over police killings of black men, one of them a shooting in Baton Rouge about two weeks ago.
Despite a lack of clarity about the motive and specifics of Sunday's incident, Trump said President Barack Obama "doesn't have a clue" on how to handle the problem after Obama voiced concern about inflammatory rhetoric on the campaign trail.
"Our country is a divided crime scene, and it will only get worse!" Trump said.
He issued statements on Twitter on Sunday, a day before the start of the four-day Republican Convention in Cleveland this week due to formally nominate him for the White House.
After the shootings in Baton Rouge, in which three other police officers were wounded, the head of Cleveland's police union, Steve Loomis, asked Governor John Kasich to suspend state laws allowing people to openly carry firearms, but Kasich said he lacked the authority to do so.
Kasich, a Republican who lost his bid for the White House to Trump, issued a statement through his spokeswoman Emmalee Kalmbach, saying:
"Ohio governors do not have the power to arbitrarily suspend federal and state constitutional rights or state laws as suggested. The bonds between our communities and police must be reset and rebuilt - as we're doing in Ohio - so our communities and officers can both be safe."
Clinton called the shootings "devastating" and urged the country to work together. "We must not turn our backs on each other. We must not be indifferent to each other," Clinton said in a statement. "We must all stand together to reject violence and strengthen our communities."