Beijing says disputes over issue should not be subject to multilateral discussions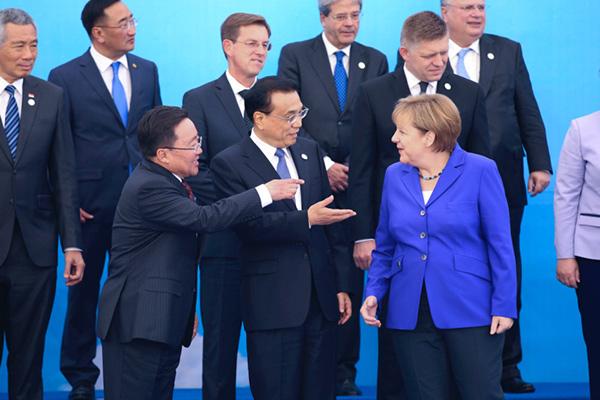 Premier Li Keqiang chats animatedly with Mongolian president Elbegdorj and German Chancellor Merkel before the leaders attending the 11th ASEM summit take group picture on July 15.[Photo/China News Service] 
Few other trips made by Premier Li Keqiang have been more sensitively and subtly timed than his first foreign journey of the year-an official visit to Mongolia, where he also attended the 11th ASEM Summit that concluded on Saturday.
A new Mongolian prime minister was appointed five days before Li's arrival at Ulaanbaatar on Wednesday, and the South China Sea arbitration award was issued one day before the premier left for the visit and the summit, whose opening was clouded by a terrorist attack in Nice, France.
What many had thought to be a northern journey full of questions and qualms, however, ended with a commitment from China and Mongolia to synergize development strategies, and a summit chair's statement on connectivity.
Analysts were quick to note that neither the statement nor the Ulaanbaatar Declaration, endorsed by Asian and European leaders at the summit's end, contains any words about the South China Sea, but does strongly address terrorism.
"Leaders ... expressed their determination to counter terrorism and prevent violent extremism in all their forms," the chair's statement said.
Cui Hongjian, director of the department for European studies of the China Institute of International Studies, said he was not surprised that the statements excluded the South China Sea.
"The Asia-Europe Meeting is a multilateral platform focused on Eurasian development and cooperation. The summit's discussions should not be distracted by bilateral issues," Cui said.
The country consistently has said the South China Sea issue should not be subject to multilateral discussions but that disputes should be settled through bilateral dialogue and consultation by countries directly involved, on the basis of historical facts and in line with international law, he said.
Days before the premier's visit, China's Foreign Ministry had said the ASEM summit was "not an appropriate venue" to discuss the issue.
Japan, however, had intended to bring the issue to the summit, according to a senior Chinese diplomat. Prime Minister Shinzo Abe, addressing an informal meeting of the ASEM Summit on Saturday, talked about the South China Sea arbitration.
Li refuted Abe's comments and spelled out China's stance, said the diplomat, who asked to remain anonymous.
Li said China has not participated in the arbitration unilaterally initiated by the Philippines. Beijing neither accepts nor acknowledges the so-called arbitration award, he added.
The premier had 11 bilateral meetings with other senior leaders during the summit. His effort to promote China's stand on the South China Sea issue received widespread backing and understanding, the diplomat said, adding that except for the Philippines, no other meeting participants echoed Abe's comments at the summit.
Related analysis: South China Sea arbitration panel manipulated