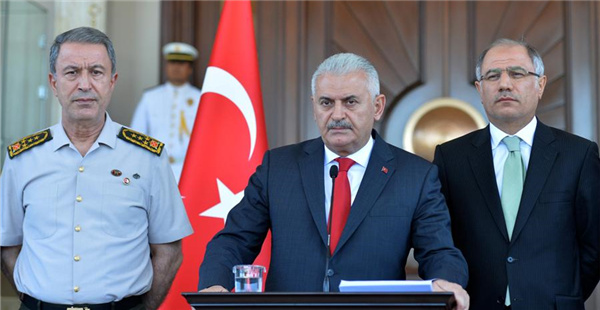 Chief of Staff General Hulusi Akar, Turkey's Prime Minister Binali Yildirim and Interior Minister Efkan Ala (L to R) address a news conference, following an overnight attempted Turkish military coup, in Ankara, Turkey July 16, 2016. [Photo/Agencies]
ANKARA -- Turkey's prime minister said on Saturday that at least 161 people were killed and 1,440 wounded in the coup attempt that swept the country on Friday night but was foiled by Saturday morning.
Binali Yildirim was speaking outside his Cankaya palace in Ankara and accompanied by top general Hulusi Akar who was held during the coup attempt.
As many as 2,839 soldiers are now detained over suspicion of involvement in the failed coup.
"Those who form the backbone of the coup have been taken into custody and arrests are still being made," Yildirim said.
He vowed to consider enacting a death penalty, which is not included in Turkey's constitution, "to make sure this will not happen again."
The prime minister added that a parliamentary meeting will be held later in the day to discuss the coup attempt.
He warned any country against supporting Islamic cleric Fethullah Gulen, whose followers are blamed for the coup.
A country that will stand by cleric Gulen won't be a friend of Turkey and will be considered at war with Turkey, he pointed out.
Gulen has been living in self-imposed exile in the United States for years.