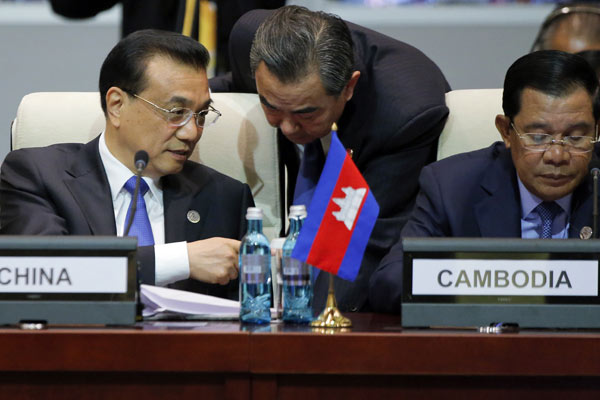 Premier Li Keqiang (left), flanked by Cambodia's Prime Minister Hun Sen, confers with Foreign Minister Wang Yi at the opening session of the 11th Asia-Europe Meeting summit in the Mongolian capital of Ulaanbaatar on Friday. The summit closes on Saturday. [Photo/Agencies]
Premier envisions growing cooperation among Asian, European nations guided by pragmatism
Asia and Europe have great opportunities before them but also tough challenges, especially the thorny issues of terrorism and the refugee crisis, Premier Li Keqiang told a gathering of leaders from the two continents in Ulaanbaatar, Mongolia, on Friday.
The situation calls for ramped-up efforts to push forward all-around cooperation in Eurasia, while seeking ways to raise the cooperation levels in a spirit of mutual respect and equal consultation, he said at the 11th Asia-Europe Meeting summit, whose opening on Friday morning was overshadowed by a terrorist attack just hours earlier.
Li joined a group of world leaders to condemn the attack in Nice, where a truck mowed down Bastille Day revelers, killing at least 84. Leaders at the biennial meeting observed a minute of silence at its opening ceremony.
In elaborating on his proposal of "renovating the Euro-Asia cooperation concept", Li urged ASEM members to foster an awareness of a community of shared responsibilities and destinies, to effectively counteract challenges besetting Asia and Eruope.
Cui Hongjian, director of the Department for European Studies at the China Institute of International Studies, said the Nice attack had added to the urgency European and Asian leaders feel to foster a "community of shared destines".
"Terrorism can to the greatest extent unite people from various countries, whether they are European or Asian," he said.
At the summit, Li suggested ASEM members engage in dialogue and cooperation, and prevent new sources of tumult from occurring in their own regions so as to safeguard world peace and regional stability.
The global community should advocate unity and coordination, he said, and discard a Cold War mentality and zero-sum game.
The premier said China opposed any country distorting international law and applying a double standard in addressing disparities and disputes.