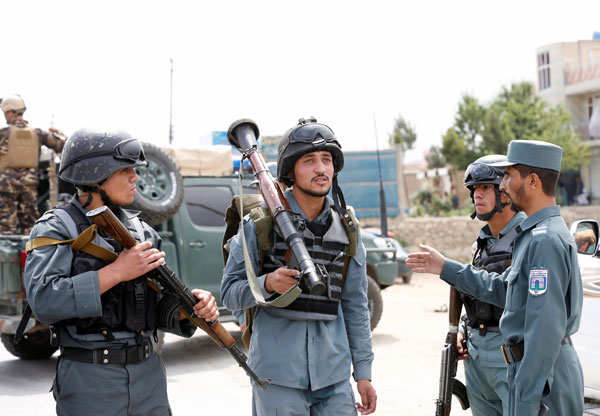 File photo shows Afghan policemen keep watch at the site of suicide attack in Kabul, Afghanistan on June 30, 2016. [Photo/Agencies] 
KABUL - Afghan security forces have pressed on to clear the militants in restive provinces and killed 62 militants in the latest operations, the country's Defense Ministry said Friday.
"Afghan National Security Forces (ANSF) conducted cleanup and military operations in Nangarhar, Paktika, Wardak, Ghazni, Kandahar, Farah, Badakhshan, Takhar and Helmand provinces within the past 24 hours, killing 62 armed insurgents, wounding 28 and detaining two others," the ministry said in a statement providing daily operational updates.
The ANSF also found and seized weapons, the statement said, adding that five local insurgent commanders were among the killed.
A total of seven Afghan army personnel were also killed as a result of separate attacks and clashes over the same period, the statement confirmed.
The Taliban has yet to make comments.