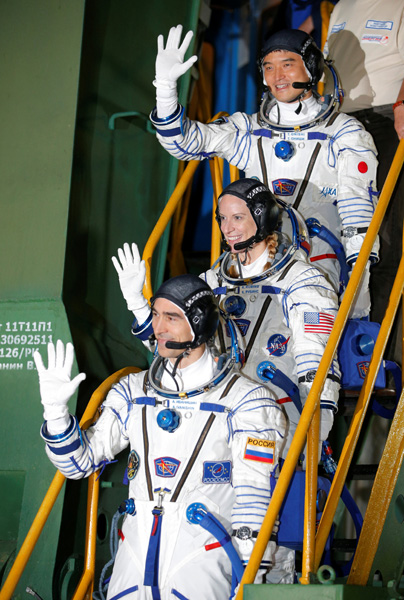 The International Space Station (ISS) crew members Kate Rubins of the US(C), Anatoly Ivanishin of Russia (bottom) and Takuya Onishi of Japan gesture close to the rocket prior the launch at the Baikonur cosmodrome, Kazakhstan, July 7, 2016. [Photo/Agencies]
A three-member multinational crew blasted off aboard a Russian Soyuz rocket from Kazakhstan on Thursday for a two-day trip to the International Space Station, a NASA TV broadcast showed.
NASA astronaut Kathleen "Kate" Rubins, Russian cosmonaut Anatoly Ivanishin and Japanese astronaut Takuya Onishi lifted off from the Baikonur Cosmodrome at 0136 GMT on Thursday (9:36 p.m. EDT Wednesday) and reached orbit nine minutes later.
"We wish you good luck," a Russian flight controller radioed to the crew, an interpreter said.
The crew's Russian Soyuz capsule is scheduled to arrive at the station, which orbits about 250 miles (400 km) above Earth, at 0412 GMT Saturday (12:12 a.m. EDT) to begin a four-month mission.
"I'm incredibly excited about a lot of the biology experiments we're going to be doing," Rubins, 37, said in a NASA interview before launch.
Rubins, a cancer and infectious diseases researcher, plans to attempt the first DNA sequencing in orbit.
She, Ivanishin, 47, and Onishi, 41, will join NASA astronaut and station commander Jeff Williams and two Russian cosmonauts who have been aboard the orbital outpost since March.
Ivanishin has made one previous flight to the station. Rubins and Onishi are both rookie astronauts.