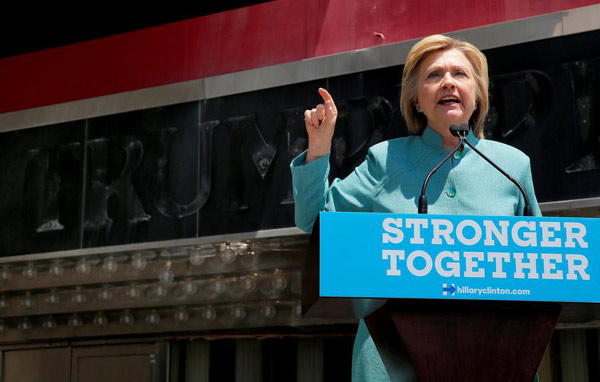 US Democratic presidential candidate Hillary Clinton delivers a campaign speech outside the shuttered Trump Plaza in Atlantic City, New Jersey, July 6, 2016. [Photo/Agencies]
WASHINGTON - US Attorney General Loretta Lynch announced on Wednesday Hillary Clinton will not face criminal charges for her private email setup during her stint in the US State Department.
According to a statement issued by Lynch, she and FBI Director James Comey met on Wednesday to discuss the findings by FBI into Clinton's email practices while serving as the US secretary of state, and concluded that the year-long FBI investigation would come to an end.
"I received and accepted their unanimous recommendation that the thorough, year-long investigation be closed and that no charges be brought against any individuals within the scope of the investigation," said Lynch.
The decision came one day after Comey said his agency recommended no criminal charges against Clinton while he blasted the presumptive Democratic presidential nominee for 2016 US election for being "extremely careless" in handling classified information.
Speaking at a press conference here on Tuesday, Comey said federal investigators found that 110 emails in 52 email chains had contained classified information at the time they were sent or received and that eight of those 52 chains "contained information that was top secret" when they were sent.
Apart from the approximately 30,000 work-related emails Clinton turned over to the State Department in 2014, investigators later discovered several thousand work-related e-mails that were not among the group of 30,000 e-mails, Comey told a press conference.
"With respect to the thousands of e-mails we found that were not among those produced to the State Department, agencies have concluded that three of those were classified at the time they were sent or received; one at the secret level and two at the confidential level," he said.
However, Comey said there was no clear evidence that Clinton and her aides intended to violate the law.
"Although there is evidence of potential violation of the statutes regarding the handling of classified information, our judgment is that no reasonable prosecutor would bring such a case," said Comey.
In March 2015, Clinton acknowledged that she had exchanged about 60,000 emails from her private email account during her stint in the Obama administration, among which about half were personal and thus deleted.
All emails were sent and received via a private email server based at Clinton's home.
In response to requests from the State Department, the Clinton camp turned over the other half, roughly 30,000 emails in total, to the State Department in December 2014.