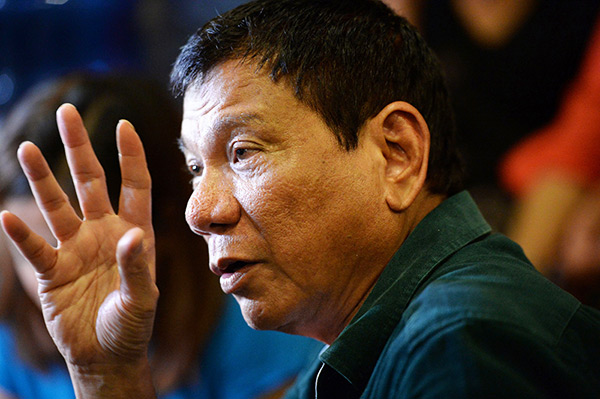 New Philippine President Rodrigo Duterte (pictured) is expected to advocate "more pragmatism and bilateral diplomacy", according to Wilson Lee Flores, an analyst and columnist at the Philippine Star newspaper. [Photo provided to China Daily]
Sources: China won't resume negotiations on disputes based on tribunal decision
China will not resume negotiations with the Philippines about disputes in the South China Sea if the discussions are based on the ruling of an arbitral tribunal in The Hague, according to sources.
The negotiations have been stalled for years, and the tribunal is due to announce its ruling on July 12.
The sources, speaking on condition of anonymity, are close to the issues between the two countries. The tribunal is in charge of the arbitration process that was launched unilaterally by the Philippines against China in 2013.
Many observers have voiced hopes that the chilly relations between Beijing and Manila will end after Rodrigo Duterte took office as the 16th Philippine president on Thursday.
"Manila must put aside the result of the arbitration in a substantive approach," one of the sources said.
The sources also said Beijing is ready to start negotiations on issues such as joint development and cooperation in scientific research if the new government puts the tribunal's ruling aside before returning to the table for talks.
China has rejected being part of the compulsory arbitral proceedings partly because the case involves sovereignty and maritime delimitation, which it declared in 2006 are issues that are not subject to any third-party arbitration.
Although the outgoing Philippine government said it had exhausted all diplomatic approaches before seeking arbitration, the Chinese Foreign Ministry said Manila did not embark on any serious two-way negotiations over the claims it had raised with the tribunal.
Wilson Lee Flores, an analyst and columnist for the Philippine Star newspaper, said he expects "more pragmatism and bilateral diplomacy to prevail in the Duterte government's dealings with China, instead of the past six years of confrontations".
Normalizing bilateral relations with China would help to balance the Philippines' foreign policy with its traditional ally the United States, Flores said.
Li Guoqiang, a senior researcher at the Chinese Academy of Social Sciences' Institute of Chinese Borderland Studies, said: "For all the disputes concerning the South China Sea, negotiation is the only choice and the only viable approach. Confrontation will never help to resolve the South China Sea issue."
Li said that no matter how the tribunal rules, he believes the situation will not go into free fall, but that the decision will possibly lead to some "new chaos".
"No matter how the new president acts on the ruling, diplomatic negotiation is second to none. Using the ruling as a condition for resuming diplomatic consultations will not be viable," Li said.
Zhu Feng, professor and executive director at Nanjing University's China Center for Collaborative Studies of the South China Sea, said it will be "a very important and ideal start" if the new Philippine government repairs ties with China.
He said this will be the case if it "effectively manages in a reasoned manner the impact brought by the ruling on the existing bilateral disputes between China and the Philippines".