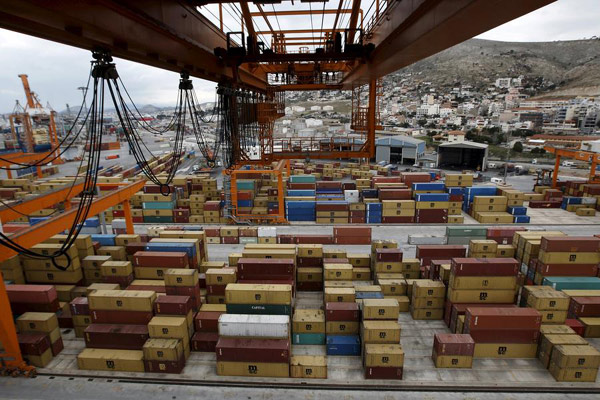 Containers are seen at the container terminal in the port of Piraeus near Athens, Greece in this January 26, 2012 file photo. [Photo/Agencies]
ATHENS - Greek lawmakers ratified on Thursday with an overwhelming majority the landmark concession agreement with China's COSCO Shipping for the acquisition of a majority stake in Piraeus Port Authority (PPA or OLP in Greek).
During a roll call held in the plenum, 223 MPs of the ruling coalition as well as opposition parties voted in favor of the bill on the approval of the sale, while 25 legislators voted against.
A total of 248 legislators participated in voting which was broadcast live on the parliament's channel and 52 MPs were absent.
The ratification of the contract for the privatization of Greece's largest port came a few hours ahead of Greek Prime Minister Alexis Tsipras' first official visit to China.
The Greek leader is scheduled to travel to Beijing on Friday, heading a large delegation of officials and businessmen, aiming to further develop bilateral ties.
The changing of hands at Piraeus port under the deal approved on Thursday has been hailed by both sides and international experts as a milestone in the friendly Sino- Greek relations which will benefit Greece, China and the world.
After the Greek parliament's green light, under the agreement sealed in April this year, COSCO will pay to Greece's privatization fund, the Hellenic Republic Asset Development Fund (HRADF), 280.5 million euros (311.52 million US dollars) for the 51 percent of shares in PPA and the management of the port.