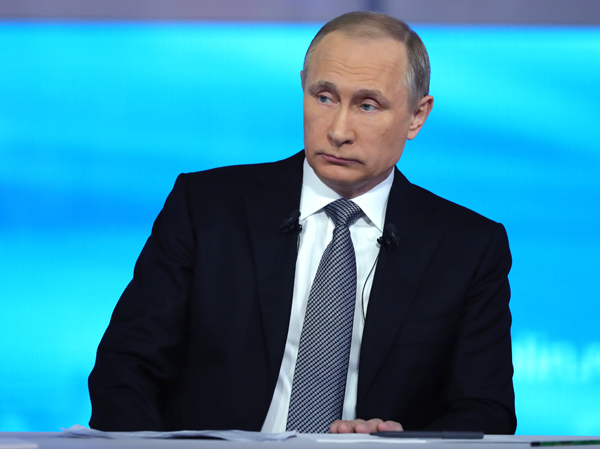 File photo of Russian President Vladimir Putin. [Photo/Xinhua]
ST. PETERSBURG, Russia -- Russia and China are "close allies" with their ties running at a very high level and bilateral cooperation expanding steadily, said Russian President Vladimir Putin.
"We see each other as close allies, so of course we always listen to each other, by this I mean we keep in mind each other's interests," he said in an interview ahead of his Saturday state visit to China.
He noted that mutual trust between Moscow and Beijing has reached an unprecedented level and laid a solid foundation for bilateral cooperation, which now covers a variety of areas including trade, energy and infrastructure.
Although Russia and China cannot always reach consensus on difficult issues quickly, they can make them -- however difficult they are -- serve the common purpose of promoting bilateral cooperation, so they are always able to find solutions, added the Russian president.
All members of the Eurasian Economic Union (EEU) agree to beef up cooperation with China within a Silk Road cooperation framework proposed by Chinese President Xi Jinping, said Vladimir Putin.
The Silk Road Economic Belt is a "very well-timed and appealing" initiative that has "great potential," Putin commented.
In a recent EEU meeting in Astana, capital of Kazakhstan, all the five members -- Armenia, Belarus, Kazakhstan, Kyrgyzstan and Russia -- expressed support for carrying out cooperation with China within the Belt framework, Putin recalled.
In the first phase of cooperation, the two sides can set up a free trade area, he proposed, noting that the fundamental path of world economic development and EEU-China cooperation is to promote openness.
Meanwhile, with more and more countries in the region interested in joining the ranks, "we shall try to avoid establishing a closed economic and trade bloc," he added.