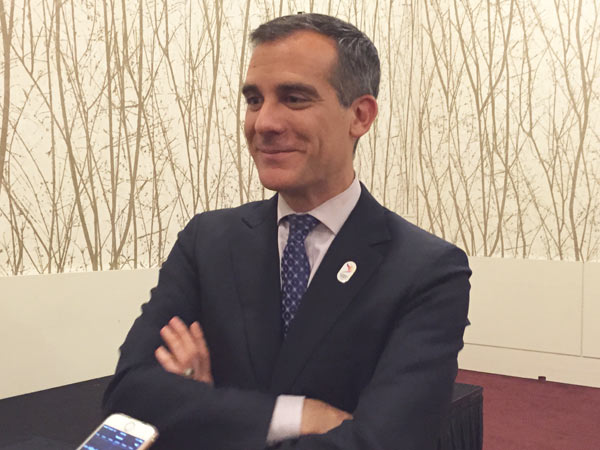 Los Angeles Mayor Eric Garcetti. [Photo provided to China Daily]
"Deals are numbers that can be translated into relationships."
So said Los Angeles Mayor Eric Garcetti, referring to the city's increasing number of deals with foreign investors.
As the second-largest city in the United States, Los Angeles continues to be a prime destination for foreign investment, especially from China, which is considered one of the major reasons for the economic growth of the greater Los Angeles region.
But Garcetti believes "friendship transcends business".
"A deal is made when two people trust each other, like each other, respect each other enough to make sure they are going to do business for the next number of years," he said.
This week, Garcetti traveled to China, where he was scheduled to meet with Chinese officials for a space program.
"(We'll find) whether we can collaborate with each other, finding those bridges to transcend our national identities to reach, quite literally, to the heavens - whether it's the actual heavens or the virtual space that we created," he said before embarking on the trip to China.
In a Q&A with China Daily USA, Garcetti shares his insights on how Los Angeles and China can work together in diverse areas, including promoting tourist exchanges, fighting climate change and attracting investment.
Q: China is sending more and more visitors to Los Angeles. What does the city have to offer Chinese visitors, and what efforts has it made to attract them?
We love Chinese visitors. We are proud they became No 1 overseas (visitors) three years ago, passing Australia and now No 2. even with our neighbors, including Canada and Mexico. Maybe one day soon, it will be No 1, even more than Mexico, which is just a few kilometers to the south.
Chinese visitors, I think, are understanding Los Angeles has everything - good weather, great food, movie stars, great sports and the things that they want to see in America. And Los Angeles is also familiar with Chinese, because so many Chinese Americans and Chinese immigrants live here. ... It has certainly the best Chinese restaurants in the United States. You have the most Chinese investment, and the most Chinese visitors, and Chinese students - the No 1 location.
So we really think these things are tied together. We opened up offices in three cities - Guangzhou, Shanghai and Beijing, and we look at other Chinese cities in the future to be able to plan a trip even before they get here. We are working with some of the big tour operators in Guangzhou, Dalian, and others, who have the Chinese tour groups, so that they can guarantee a great, fulfilling trip here.