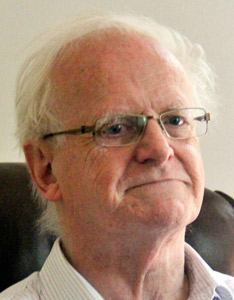 Tony Carty, professor of public law at the University ofAberdeen and member of Tsinghua University Law Faculty
Manipulation of opinion by the United States and its allies lies behind the arbitration being sought unilaterally by the Philippines against China on South China Sea issues, according to a British legal expert.
Tony Carty, professor of public law at the University of Aberdeen and Cheng Yu Tung Chair of Public International Law at Tsinghua University Law Faculty, spoke with the arbitration tribunal expected to deliver a ruling soon.
Carty said China should have a "clear strategy" and embark on "a massive and very effective international publicity campaign to show that the tribunal has been biased in its judgment about jurisdiction".
In the likely event of an unfavorable final judgment against China, Beijing must get its message across effectively to world opinion on why it disagrees with the tribunal's decision, Carty said.
China has refused to be any part of the arbitration since the proceedings were launched in 2013 under the United Nations Convention on the Law of the Sea.
This month, Carty was among an international group of legal experts and lawyers who signed a legal opinion document questioning the tribunal's jurisdiction.
Carty spoke of concerns about "a flagrant interpretation of the Convention" ahead of the tribunal's ruling.
"It is a question of China articulating the complex nature of the manipulation of international law that is going on here," he said.
Carty added that some politicians in the US and Britain, as well as some media outlets, had said that the tribunal is permanent and "some kind of final court of appeal".
"But in fact it is merely arbitration, in which one of the parties is not prepared to participate."
Cambodian Prime Minister Hun Sen said on Monday that the forthcoming ruling will be politically motivated and Cambodia will not support it.