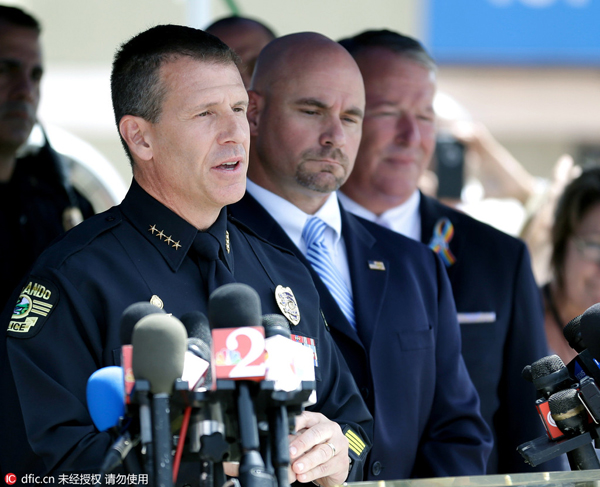 Orlando Police Chief John Mina (L), answers question during a news conference with Ronald Hopper, FBI assistant special agent in charge (M), and Orlando Mayor Buddy Dyer (R), as he gives updates about the recent mass shooting at the Pulse nightclub, Monday, June 20, 2016, in Orlando,Florida.[Photo/IC]
ORLANDO - The Florida nightclub killer called himself an "Islamic soldier" during the three-hour siege, according to transcripts released by the FBI on Monday.
From inside the gay Orlando nightclub, the gunman, Omar Mateen told police negotiators to tell America to stop bombing Syria and Iraq and that was why he was "out here right now."
The conversations shed more light on the possible motivations of Mateen, who killed 49 people and injured 53 in the deadliest mass shooting in modern US history.  
Authorities believe Mateen, a US citizen of Afghan descent, acted alone in the June 12 rampage, with no help from Islamist militant networks. The 29-year-old security guard was killed by police after more than three hours in the club.
The attack renewed debate about gun control in the United States. The US Senate on Monday rejected four measures restricting gun sales, dealing a bitter setback to advocates who have failed to get even modest gun curbs through Congress despite repeated mass shootings.