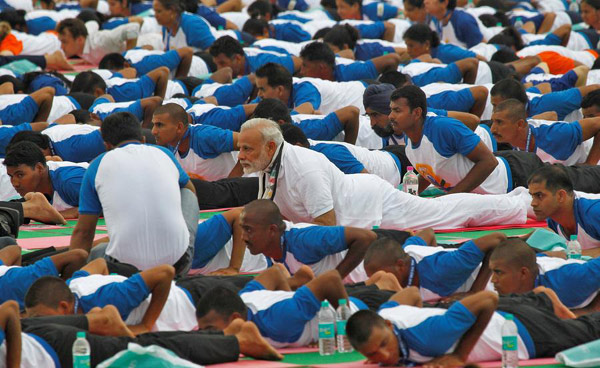 India's Prime Minister Narendra Modi (C) performs yoga during World Yoga Day in Chandigarh, India, June 21, 2016. [Photo/Agencies]
NEW DELHI - Indian Prime Minister Narendra Modi Tuesday joined over 30,000 people in stretching, twisting and bending for asanas (ancient exercises) as the country celebrated the second International Yoga Day.
Dressed in a white T-shirt and track pants with a scarf, Modi performed a variety of poses, along with 30,000 people, on a mat at the Capitol Complex in the central government-controlled territory of Chandigarh, barely three hours drive from the national capital.
Urging people to embrace yoga like they have taken to the mobile phone, the prime minister delinked it from religion and said that it "gives us health assurance at zero budget," helps control the mind and helps people to lead a disciplined life.
"Yoga is not a religious activity. Many people do not understand yoga completely. It is not what you will get from yoga but what is important is what you will give to yoga and what all (ailments) will it rid you of... It helps is getting mukti (salvation) from health issues," he said.
In the Indian capital, President Pranab Mukherjee led a sessions at his official residence, the Rashtrapati Bhavan, where around 1,000 people took part, while 57 ministers led yoga sessions across the country.
Local TV channels showed footage of millions of others doing yoga at similar events in hundreds of Indian cities and towns. Preparations are also being done for yoga sessions in Britain and at the iconic Times Square in New York.
The United Nations announced the International Day of Yoga in 2014 after Modi, a yoga enthusiast who says he practises the ancient Indian art daily, lobbied the world body to declare June 21 as the International Yoga Day.