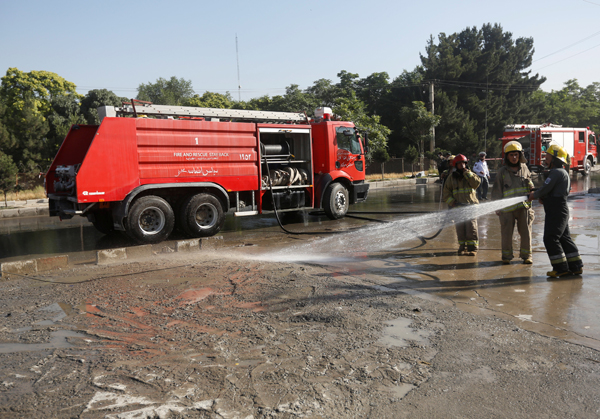 Afghan fire-fighters clean the site of a suicide attack in Kabul, Afghanistan June 20, 2016.[Photo/Agencies]
FAIZABAD, Afghanistan -- About eight civilians were killed and 30 others wounded in a bomb attack in Afghanistan's northern province of Badakhshan on Monday, a local official said.
"The blast ripped through the main square of Kishim district, southwest of provincial capital Faizabad city. As a result of the incident, eight civilians were killed and 30 persons were injured," said Nawid Froutan, spokesman of the provincial government.
The blast was caused by explosive attached into a motorcycle at the crowded circle, the spokesman said.
The casualties were shifted to nearby hospitals by ambulances and police vehicles while some of the wounded were transported to Taluqan city, capital of the neighboring Takhar province.
"Majority of the affected people were local vendors while several women and children were among the injured. Many shops around the site were also damaged," the spokesman noted.
No group has claimed responsibility for the attack yet.
The explosion was the third bomb attack in the country within a day.