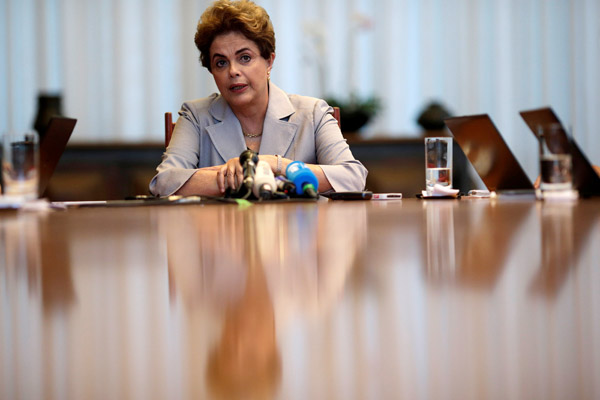 Suspended Brazilian President Dilma Rousseff attends a news conference with foreign media in Brasilia, Brazil, June 14, 2016. [Photo/Agencies]
BRASILIA - Brazil's suspended President Dilma Rousseff intends to attend the Olympic Games whether she is invited or not, though she will not be there to open them in Rio in August.
"If I am not invited, I will climb a tree to watch the Games," she joked on Tuesday to foreign reporters.
Rousseff was suspended one month ago when the Senate voted to put her on an impeachment trial for breaking budget laws. She was replaced by interim President Michel Temer who will be presiding over the Olympic torch ceremony on Aug 5.
Rousseff lamented that Temer will take the credit for hosting the Olympics when it was the government of her Workers Party that won the Games for Brazil and made them possible by building the infrastructure.
Visiting heads of governments who wish to meet her are most welcome, but it would have to be on a personal basis, she said.
Rousseff is not expected to survive the impeachment trial that will end in mid-August, but if she does she will be back in office and in Rio in time to close the Games.