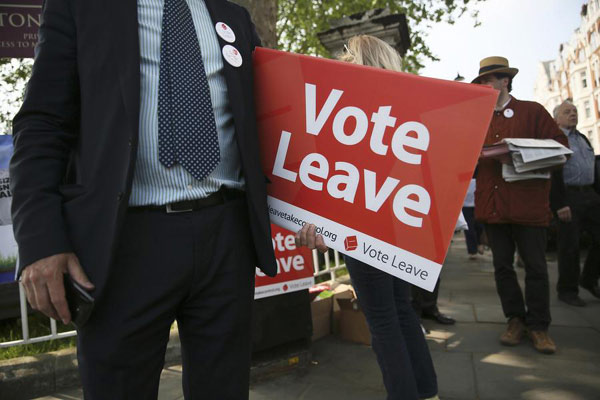 A supporter holds a banner during a Vote Leave event outside the Chelsea Flower Show in London, Britain May 28, 2016. [Photo/Agencies]
LONDON - Former Conservative Prime Minister Sir John Major warned Sunday of chaos if Britain votes on June 23 to leave the European Union.
In what was described as his most outspoken intervention so far in the referendum debate, Major accused Brexit campaigners of "misleading people to an extraordinary extent," saying they were running a campaign "verging on the squalid."
The EU debate dominated all of Sunday's traditional political programs on British television, with both sides eager to score points as the campaigning starts its home run ahead of the referendum vote.
Major said he feared people would vote to leave on the basis of information "known to be incorrect," a claim immediately denounced by former London mayor and Brexit campaigner Boris Johnson.
Denouncing Brexit's announcement that money saved by leaving the EU would be handed to the National Health Service (NHS), Major claimed the NHS would be about as safe in the hands of Johnson and his allies "as a pet hamster would be with a hungry python."
Johnson responded by insisting Vote Leave was setting out "an agenda for the government to take back control" after leaving the EU.
Prime Minister David Cameron and Chancellor of the Exchequer George Osborne warned of higher mortgages for householders if Britain leaves the EU.
In a joint statement the neighbors who live at 10 and 11 Downing Street warned leaving the EU could see mortgages rise, rocketing for some by nearly 1,000 pounds (1,451 US dollars) a year, rising to 1,500 pounds (2,177 US dollars) in a worse case scenario.
Cameron said quitting the EU would create a clear and present danger of rocketing mortgages for householders.
Osborne branded those who did not accept the economic risks as "conspiracy theorists who are telling us we faked the moon landings, or concealed the true location of the Loch Ness monster".
In an attack on Nigel Farage, leader of the anti-EU United Kingdom Independence Party (UKIP), Osborne told The Sunday Times: "This is a battle between Farage's mean vision of Britain and the outward-facing, generous Britain that the mainstream of this country celebrates. I say: we don't want Farage's Britain."