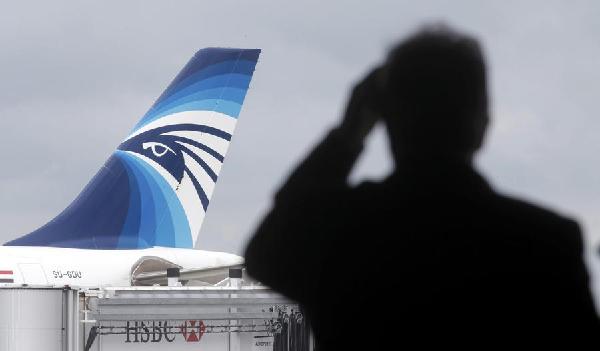 The EgyptAir plane scheduled to make the following flight from Paris to Cairo, after flight MS804 disappeared from radar, taxies on the tarmac at Charles de Gaulle airport in Paris, France, May 19, 2016. [Photo/Agencies]
BRUSSELS -- Greek navy vessels and aircraft are assisting in the search operations for the missing EgyptAir flight MS804 after being alerted at 03:45 a.m. local time (0045 GMT), according to a Greek Defense Ministry announcement.
Two orange plastic items believed to belong to the A320 have been located by Egyptian vessels about 230 miles south of Crete, the Greek state TV ERT said, citing Greek Defense Ministry sources.
The plane, an Airbus 320, was off the radar at 2:45 a.m. Cairo local time (0045 GMT) en route from Paris to Cairo. It was flying at an altitude of 37,000 feet (11,280 meters) when losing contact with the radar, an official source in the airline said.
Greek Defense Minister Panos Kammenos said that the plane had made abrupt swerves and lost altitude within Egyptian airspace.
"The plane was southeast of Kassos and Karpathos islands. It had entered Egyptian airspace when it turned 90 degrees to the left and then 360 degrees to the right," Kammenos told an emergency press briefing broadcast on national television.
According to the Greek official the flight MS804 suddenly descended from 37,000 feet to 15,000 feet and then 10,000 feet while it was about 10 miles within the Egyptian airspace.
Greece's Civil Aviation Authority said in a press release that Greek authorities did not receive a distress call from the plane.
The flight MS804 entered the Greek airspace at 02:24 a.m. local time (2324 GMT, May 18), according to the press release.
During the last contact of the plane's pilot with Greek air traffic controllers at 02:48 a.m. local time while the Airbus was flying over the Greek island of Kos no problems were reported.
"The pilot was in a good mood and thanked in Greek," according to the press release.
The aircraft exited the Greek airspace, before suddenly disappearing from radar screens within Egyptian airspace at 03:29 a.m. according to the Greek authorities.
Athens attempted to contact the plane at 03:27 a.m. for the typical transfer of communication to Egyptian air traffic controllers, but there was no response, according to the official announcement.
"Greece is by Egypt's side, Hellenic Air Force and Navy assist the search and rescue mission by all means," tweeted the Greek Foreign Ministry.