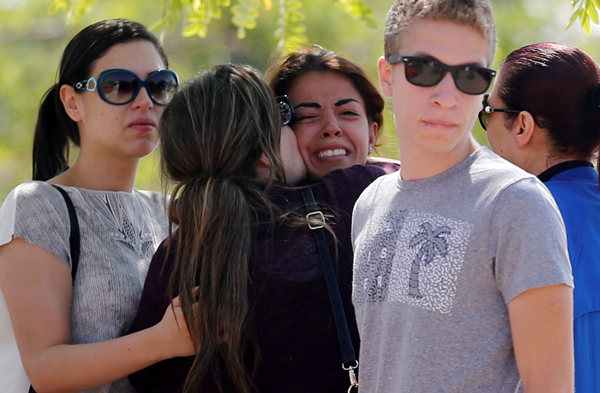 Relatives and friends of the EgyptAir passengers wait on Thursday at Cairo International Airport.[Photo/Agencies]
An EgyptAir jet carrying 66 passengers and crew members on a flight from Paris to Cairo disappeared from radar on Thursday over the Mediterranean Sea, Egypt's national airline said.
French President Francois Hollande confirmed that Flight MS804 "came down and is lost".
Signs of possible wreckage were found on Thursday off the Greek island of Crete, a Greek military spokesman said.
"There have been finds southeast of Crete, inside the Cairo flight information area," general staff spokesman Vassilis Beletsiotis said.
Egyptian Civil Aviation Minister Sherif Fathi told a news conference in Cairo that he did not want to prematurely draw conclusions, but that indications suggest a terror attack as a possible cause of the crash.
Asked whether a technical failure was behind the crash, Fathi said, "On the contrary ... if you thoroughly analyze the situation, the possibility of having a different action or a terror attack, is higher than the possibility of having a technical failure."
But he cautioned that the truth would not be known before an investigation is concluded.
Earlier, Egyptian Prime Minister Sherif Ismail also said a terror attack could not be ruled out.