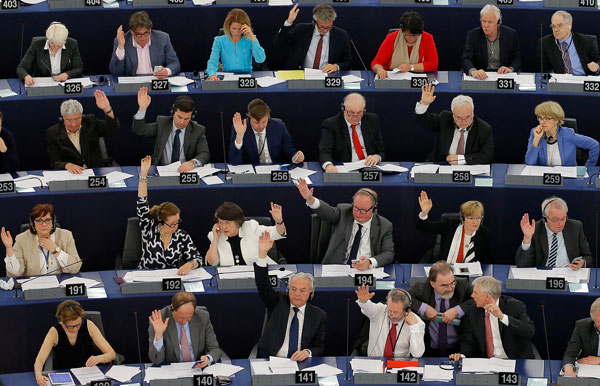 Members of the European Parliament take part in a voting session in Strasbourg, France, April 12, 2016. [Photo/Agencies]
A non-legislative resolution in the European Parliament on Thursday has failed to recognize China's market economy status.
Based on the protocol on China's accession to the World Trade Organization (WTO) in 2001, China will automatically transit to a market economy status for Europe by Dec 11, 2016.
However, lawmakers in the EU are still concerned that the influx of Chinese products might threaten the survival of European enterprises and employment once the market economy status is granted to the world's second largest economy.
As such, members of the European Parliament (MEPs) proposed that China's exports to the EU must be treated in a "non-standard" way. In other words, EU still needs to evaluate the price and cost of these commodities when conducting anti-dumping and anti-subsidy probes.
However, MEPs stressed the importance of the EU's partnership with China, given that China is now the region's second biggest trading partner "with daily trade flows of over 1 billion euro."
Therefore, lawmakers pin their hopes on the European Commission, the EU's executive body, to put forward a proposal that strikes a balance between these needs. They believe that the EU should "find a way to do this in compliance with its international obligations in the WTO, and in particular China's accession protocol."
According to Article 15 in the protocol on China's Accession, WTO members who have yet to grant China the market economy status are authorized to use external benchmarks, normally prices and costs in another country, to determine China's dumping margin by December 2016. So, whether to recognize China as a market economy after 2016 has been heatedly discussed within in the EU.
More than 80 countries, including Russia, New Zealand, Singapore and Australia, have recognized China's market economy status as of now.
Earlier this year, Chinese Foreign Ministry spokesman Hong Lei has urged the EU to obey the WTO rules and stop its unfair treatment of China.
China hopes the EU, a vital supporter of the multilateral trade and international legal systems, will fulfill its commitments to China's entry into WTO, Hong added.