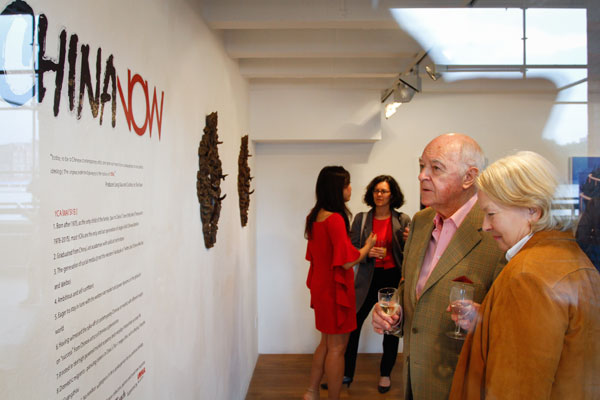 ChinaNow: Define the Indefinable, a joint exhibition by 10 emerging young Chinese contemporary artists, opens at OXO Tower Wharf, Southbank of London, May 12, 2016. [Photo provided to chinadaily.com.cn]
ChinaNow: Define the Indefinable, a joint exhibition by 10 emerging young Chinese contemporary artists, opened in London on Wednesday, offering a look at how China's rapid economic and social development has influenced its youth culture and spawned new trends.
"To be a Chinese contemporary artist today, one does not need to be a spokesperson for any political ideology. The unprecedented diversity is the nature of young Chinese artists," Lin Shuchuan, curator of the exhibition, said.
Ranging from paintings, sculptures to digital arts, the 20 pieces of artworks reflect "the variety and diversity of Chinese society today," according to the curator.
For example, a looping video by Double Art Fly Centre (a collective of contemporary artists) explores the influence of FaceTime as a modern communication technology on society, while artist Wu Jian'an, inspired by the ancient tradition of "paper cut", showcases figures from Chinese mythology, connecting the complicated relationship between popular, modern Western culture and historic Chinese art in his collage work Intertwined Power.
As a Christian, Shan Dingkai mixes his "contemporary gothic" with traditional Chinese ink. Artist Zhang Quan has found a very different approach focusing on the proletariat.
Growing up in Southwest China's Sichuan province, Feng Zhengqun decided to achieve his dream in the Chinese capital Beijing. His artworks therefore manifest geographical change as a domestic migrant artist.
Karen Levy, co-founder of The Art of this Century, a private art platform, told China Daily that she has found that this young generation of artists clearly see "the reality of life," which is different from their "critics or political predecessors."
"They are more aware of social issues, family issues, sexual issues, etc. It is very diverse…They don't just want to be artists from China; they also want to be international artists," Levy added.
She said that in her 10-year experience of collecting art, she has seen "a growing interest from international and Western collectors in Chinese contemporary art" because they want to know more about China.
Levy said big capitals such as London and Paris all want to host exhibitions for Chinese contemporary artists, citing an example of the Guggenheim Museum in NYC which will hold one next year.
Over the past three decades since opening up, China's contemporary art market has grown alongside the economy.
Though the Chinese art market experienced a decline due to the contraction of its economy last year, China is still the third-largest global market, accounting for 19 percent share of total sales value, after the US with 43 percent, and the UK with 21 percent, according a newly released report in March by the European Fine Art Foundation (TEFAF), which is widely regarded as the most comprehensive summary of the art market.
Xiao Lang, producer of the ChinaNow exhibition, is also director of ARTouch Consulting based in London, and she said she hopes this exhibition will not just be a cultural exchange, but a true test of how young Chinese artists' works are accepted by Western audience. "All the artworks on display will be open for sale."
"As one of the world's art centers, London has a developed art market," Xiao said explaining why the organisers decided to hold such an exhibition in the UK capital. Moreover, the location of the exhibition is about five-minute walk from Tate Modern, London's national museum of modern and contemporary art.
"The other reason is that London is also the birthplace of young British artists (YBAs), a group of artists who first began exhibit together in London in 1980s. Like YBAs, young Chinese artists (YCAs) share the same 'can-do spirit', meaning being brave instead of being shy," Xiao added.
While Xiao admitted that YCAs is not a new concept, ChinaNow has attempted to define the group with some similar features. (Please see the table below)
"There features may serve as backgrounder before Western audiences look at their works," curator Lin said. But Lin added the definition is subject to change as the time goes by.
Both the curator Lin and producer Xiao said it's almost impossible for any single exhibition to fully represent the panorama of YCAs, so it would be the long-time mission of ChinaNow to open up platforms for more young Chinese artists.
Club1985 – an international and invitation-only network for collectors and patrons, who are willing to foster a greater interest and understanding of contemporary Chinese art, was launched during the ChinaNow exhibition.
The ChinaNow Exhibition– Define the Indefinable, is at OXO Tower Wharf, Southbank of London, from May 11 through May 22.


 Ten similarities among Young Chinese Artists defined by ChinaNow
 1. The only child of the family, born after 1975 when China's "one-child policy" was imposed between 1978-2015;
 2. Graduated from China's art academies with solid art techniques;
 3. The generation of social media;
 4. Ambitious and self-confident;
 5. Eager to stay in tune with the Western art market and power dynamics in the global art world;
 6. Having witnessed the take-off of contemporary Chinese art market,with different insights on "success" from Chinese artists of previous generations. "It's not all about power or money, but the pursuit of inner liberation," curator Lin Shuchuan said;
 7. Rooted in the high-powered market economy and everyday competition of urban life;
 8. "Domestic migrants" – leaving hometown and pursuing careers in China's first-tier mega-cities, such as Beijing, Shanghai and Guangzhou;
 9. Non-ideological: No needs or willingness to be a spokesperson for any political ideology, avoiding self-labeling;
 10. Rising in tandem with the same-age Chinese collectors and patrons and brand-new museums.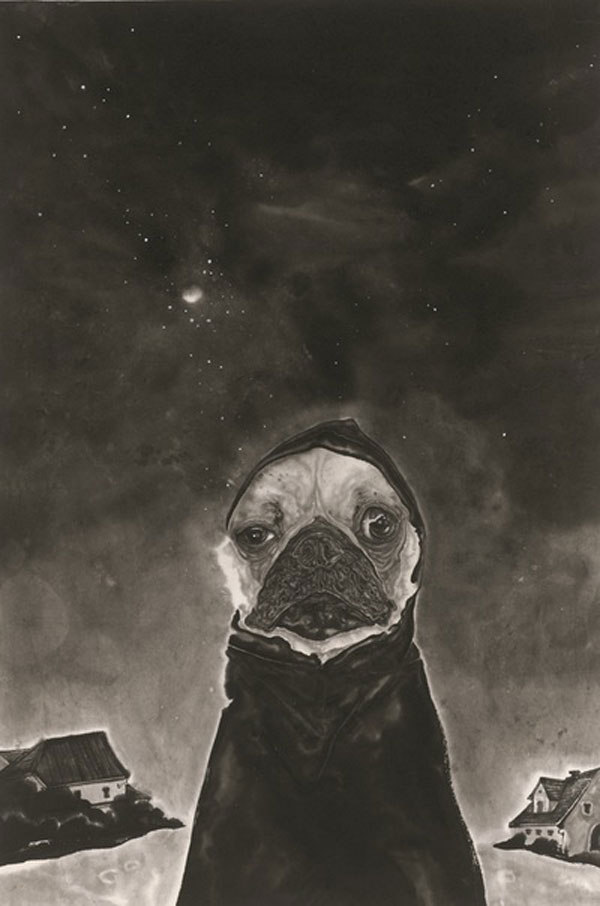 Magical Nights, Shan Dingkai, 68 x 45cm, ink on paper, 2015
The artist studied traditional art. The darkness created by Chinese ink and paper coincidentally shares something common with Western neo-gothic contemporary art movement. Though the artist is not a wildlife artist, animals are one of his most favorite subject matters. Selectively capturing animal movements and facial expressions, the artist impersonates the animals to present the emotions and subtleness of human world.