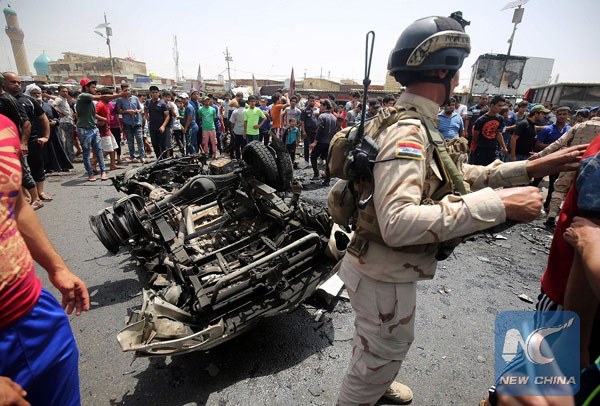 A member of the Iraqi security forces stands guard as civilians look at the damage following a car bomb attack in Sadr City, a Shiite area north of the capital Baghdad, on May 11, 2016. [Photo/Xinhua]
BAGHDAD - The Sunni Islamic State (IS) claimed a series of car bombing attacks against Shiite targets in Iraq's capital Baghdad on Wednesday, which killed at least 93 people and wounded more than 100 others.
An IS militant detonated his car bomb in the predominantly Shiite district of Sadr City on Wednesday morning, leaving at least 64 killed and 87 others wounded.
An Interior Ministry source told Xinhua that a massive blast occurred in the morning when a booby-trapped car went off at a popular outdoor market in the Shiite bastion of Sadr City. Most of the victims are women and children. The explosion also destroyed many stalls and civilian cars and caused damage to several nearby shops and buildings.
The Shiite neighborhood has been frequently targeted by IS bomb attacks during the past few months.
Several hours later, another suicide bomber detonated his explosive-laden car at the crowded square of Adan at the entrance of the holy Shiite district of Kadhmiyah in northern Baghdad, leaving at least 17 people dead and 43 others wounded as many Shiite pilgrims were visiting a holy mosque in Kadhmiyah district.
At the same time, another car bomb ripped through al-Jami'a district in western Baghdad, killing at least 12 people and wounding 31 others, the Interior Ministry source said.
The toll could rise as ambulances, police and civilian vehicles were evacuating victims to the nearby hospitals and medical centers.
The IS has frequently targeted areas where crowds of people gather, including markets, cafes and mosques across Iraq, especially Shiite-dominated areas.
Earlier, a report by the UN Assistance Mission for Iraq estimated that in April 741 Iraqis were killed and 1,374 others wounded in acts of terrorism, violence and armed conflict across Iraq.
After the explosions, Prime Minister Haider al-Abadi ordered an immediate investigation.
He said the armed forces will intensify intelligence work to prevent the sleeper cells from moving within cities and carrying out the bombing attacks against citizens, vowing to bring the terrorist group to justice.
The Iraqi army is battling the IS in the country's western and northern regions, vowing to retake Mosul, the second largest city, by the end of this year. In retaliation, IS militants waged a wave of bombing attacks across the country, in an attempt to spark sectarian conflicts.
However, the military operations were impeded by a political crisis as parties could not reach a compromise on a government reshuffle.
The fragile political process reached a deadlock after thousands of people broke into the heavily fortified Green Zone in Baghdad.
Observers said the crisis threatens to deepen the division among political factions, at a time when the country is fighting the IS which has seized swathes of territories.