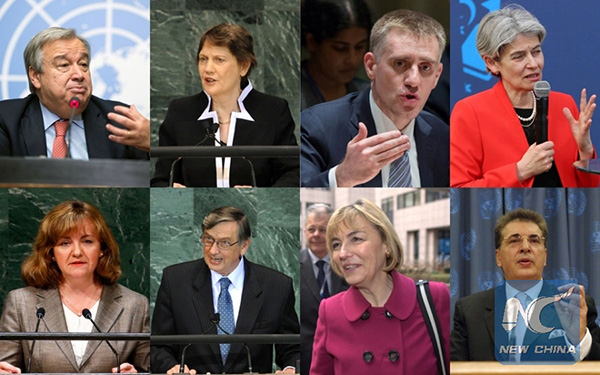 This combination of file pictures shows candidates for the upcoming UN secretary-general election: (from top left) former UN high commissioner for refugees Antonio Guterres, United Nations Development Programme (UNDP) head Helen Clark, Montenegro's deputy prime minister Igor Luksic, director-general of UNESCO Irina Bokova, former minister of foreign affairs and European integration of Moldova Natalia Gherman, former president of Slovenia Danilo Turk, former Croatian foreign minister Vesna Pusic, and former prime minister of Macedonia and former UN General Assembly president Srgjan Kerim, created on April 12, 2016. [Photo/Xinhua]
UNITED NATIONS - UN General Assembly President Mogens Lykketoft said on Tuesday that another session of public auditions with new candidates for the position of next UN secretary-general will be scheduled on June 7.
Lykketoft told reporters that he expects at least a couple of more candidates will be officially announced by governments during May, and he will organize additional informal dialogues for candidates being presented up till then to meet the 193-member General Assembly.
Without naming the new candidates, Lykketoft said there is no official deadline for UN chief candidates being nominated and he urged member states and potential candidates to come forward now.
From April 12-14, nine UN secretary-general candidates have been asked to submit their resumes and answer questions publicly raised by UN member states as well as the civil society.
During those three days, more than 800 questions have been asked; around 227,000 people from 209 countries and territories watched the audition on website.
Under the UN Charter, the UN secretary-general shall be appointed by the General Assembly upon the recommendation of the Security Council. In practice, the 15-member Security Council and its five permanent members will make the final choice and send a single candidate to the General Assembly for approval.