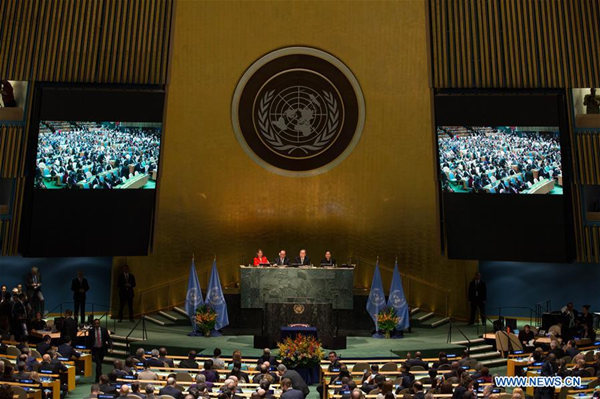 Photo taken on April 22, 2016 shows the signing ceremony of Paris climate deal at the United Nations headquarters in New York. Photo/Xinhua
China will formally ratify the Paris Agreement before September, said Vice-Premier Zhang Gaoli, who signed the climate agreement on behalf of President Xi Jinping on Friday at a special ceremony at the United Nations.
Zhang, Xi's special envoy, took part in the signing ceremony with other countries, and he also called on all G20 members to give early approval to the agreement.
"China will finalize domestic legal procedures on its accession before the G20 Hangzhou summit in September this year," said Zhang to applause from the audience.
More than 165 countries signed the agreement on Friday. It was a new record for the most countries to sign an international agreement on one day, which had been set in 1982 when 119 countries signed the Law of the Sea Convention.
The signing is the first step toward ensuring that the agreement reached in Paris last December enters into force. The final step will be for each nation to unilaterally ratify the agreement, which in many cases will involve passage by national legislatures.
"We will work with the rest of the international community for early accession to the agreement and to be sure it's early entry into force," said Zhang. "China has set the target of achieving the peak of CO2 emissions around 2030, making the best effort to peak earlier."
China plans to have its CO2 emissions decrease by 18 percent in the second half of the decade, according to the 13th Five-Year Plan. The government will control total energy consumption and carbon intensity, pushing for near-zero emission demonstration projects and establishing a nationwide carbon market.
"We will deepen the South-South cooperation on climate change," said Zhang. China will launch new projects under the new South-South Cooperation Climate Fund this year.