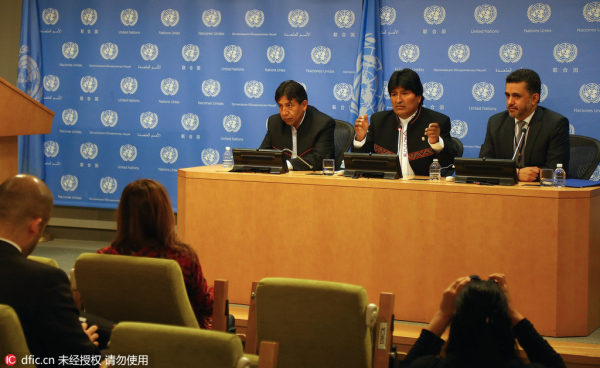 President of Bolivia Evo Morales is seen talking at the United Nations Headquarters during the Paris Climate Agreement Signing Ceremony, in New York, on April 21 2016.[Photo/IC]
The signing of the Paris Agreement on Climate Change by world leaders in the UN headquarters in New York on Friday will be a milestone in global joint efforts to combat the common threat faced by mankind.
The agreement, which was reached in the French capital in December 2015, sets the target of holding the global average temperature rise below 2 C as compared with the pre-industrial level. It promises a climate-friendly future may yet be achieved.
We have only one Earth and the threats we face from climate change are real. It is the common responsibility of all nations to ensure future generations do not suffer the consequences because of this generation's inaction.
The implementation of the agreement will be a long and hard process and many uncertainties remain. The failure of the developed nations to provide promised funds and technologies to help underdeveloped ones adapt to global warming is compromising the collective endeavor.
China, as the largest developing country, played an exemplary role in securing the agreement and it is tackling climate change by setting self-imposed emission targets that will see its carbon emissions peak by 2030 or earlier. It has also promised to cut its carbon intensity-carbon dioxide emissions per unit of GDP-by up to 65 percent by 2030 compared with 2005 levels.
To achieve these goals, China has taken a series of steps to promote green energy and cut the use of coal, which is blamed for up to 80 percent of carbon emissions. The share of non-fossil sources in the country's primary energy mix will rise to 20 percent by 2030, from 12 percent in 2015.
Now more than a quarter of the world's sustainable energy capacity such as solar, wind and nuclear power is installed in China, making it a world leader in the fight against global warming.
This has not come easily. China's economic growth, at 6.9 percent last year, is already its slowest in more than two decades. The economy faces growing pressure as more excessive industrial capacity is shed, especially in the steel and coal sectors, which will lay off millions of workers.
With its signing of the Paris Agreement, China is showing it is committed to seeking low-carbon growth and promoting innovation and ecology-friendly industries for a sustainable future for itself and the world.