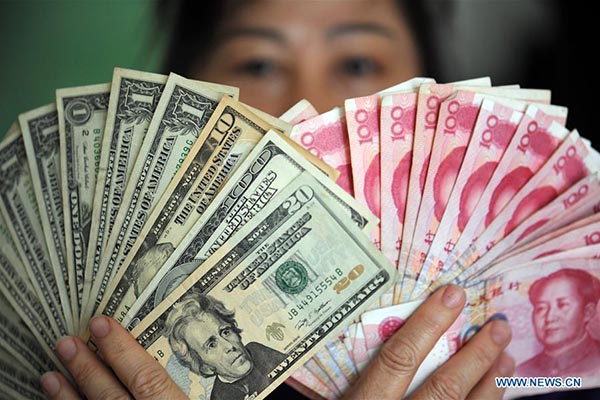 A residents shows China's yuan and US dollar banknotes in Qionghai, South China's Hainan province, Jan 7, 2016. [Photo/Xinhua]
The first quarter macroeconomic data the National Bureau of Statistics has released suggest a promising year ahead for China. Given the complicated economic situations at home and abroad, it is encouraging to see the Chinese economy avoiding a severe downturn-as feared by some observers-reducing the risk factors, starting to stabilize, and showing initial industrial advantages in the fiercely competitive international market.
Despite being the lowest since 2009, China's 6.7 percent GDP growth in the first quarter of 2016 is still very healthy, especially if seen in the light of the "China collapse" rumors that were doing the rounds a few months ago. The 6.7 percent growth is not only within the 6.5 to 7 percent growth expectation of the central government, but also among the fastest in major economies.
Judging from the macroeconomic data, the risk factors posing the greatest threat to China's economy have been reduced. The remarkable achievement in real estate destocking will give those who worried the housing market would collapse and repeat the scenario in Japan enough reasons to breathe a sigh of relief.
In the previous two years, China's housing market did suffer a lingering slump, with commercial housing sales nationwide declining by 7.6 percent in 2014 and that in the first two months of 2015 falling by a whopping 16.9 percent. Home sales stabilized only in June last year.