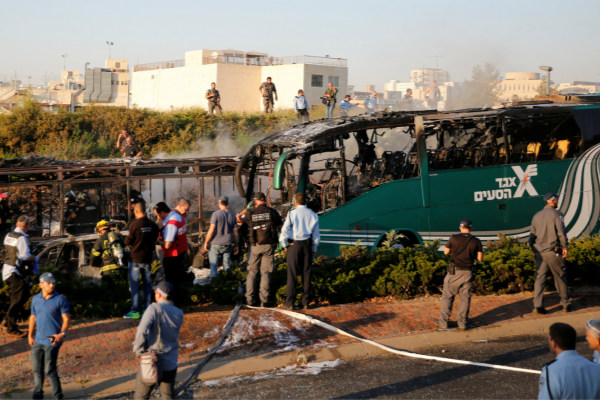 Emergency workers search the scene after a blast on a bus in Jerusalem April 18, 2016. [Photo/Agencies]
JERUSALEM -- Fifteen Israelis were injured in a bus explosion in Jerusalem on Monday afternoon, Israeli emergency services said.
Two Israelis were seriously wounded in the explosion, three were moderately injured and the rest were lightly injured, a spokesperson for Israel's Magen David Adom (Israeli Red Cross) said.
According to the police, two buses were involved in the incident. An explosion took place on a bus, which was empty of passengers, and the fire spread into a bus standing next to it in the southern Jerusalem neighborhood of Talpiot.
The circumstances of the incident are yet unclear. At first, police spokeswoman Luba Samri said they believe the incident to be a terror attack, but later recanted and said that the police is looking into various leads in order to determine the nature of the incident.
The Israeli Channel 10 news reported the explosion might have been the result of a technical failure on the first bus.