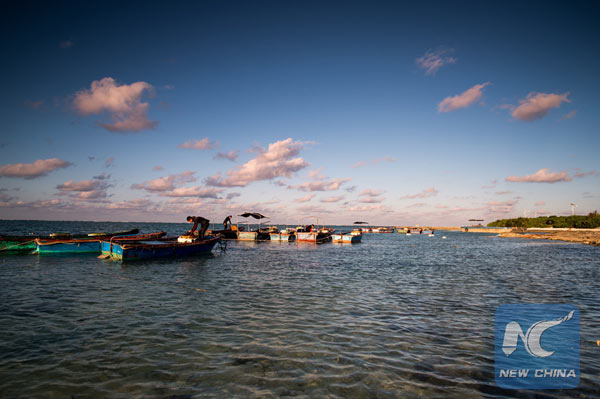 This photo taken on Dec. 11, 2015 shows uniquely beautiful winter scenery of the Zhaoshu Island in the South China Sea. [Photo/Xinhua]
BEIJING -- Japan's attempt to stir up tension on the South China Sea during the Group of Seven (G7) foreign ministers' meeting starting on Sunday bears ulterior motives, according to Chinese experts studying Japan.
The Shinzo Abe administration of Japan has been trying to place the South China Sea on top of the agenda at the upcoming two-day meeting in Hiroshima, despite pressing issues of combating terrorism and extremism, and the refugee crisis troubling Europe and the Middle East.
"Japan over the recent years has been actively adapting itself to the United States' strategy of Rebalancing toward Asia-Pacific in order to build deterrence against China," Wang Shaopu, director of the Japan Study Center with the Shanghai Jiaotong University, told Xinhua.
To that end, Japan has taken a series of domestic actions including lifting the ban on the so-called "collective self-defense" right, and has meddled in the South China Sea in attempt to gain more leverage over China, Wang said.
Meanwhile, hyping up the issue at the G7 platform is also Japan's attempt to sow discord between China and major European countries, he said.
The Abe administration has used previous G7 meetings to lobby Western powers to jointly contain China.
The bloc issued an unprecedented statement concerning the East and South China Seas after a foreign ministers' meeting in Germany last April.
Although statements from the G7 are not legally binding, the Japanese government believes it can stir up world concern and form a perception as if the international community supports Japan on such topics against China, said Sun Shaohong, a researcher on Japan at China's National Defense University.
Sun said Japan aims to complicate the situation in the South China Sea and make it an international issue.
The Abe administration also seeks to win international and domestic support for the revision of its constitution this year to allow the country to declare war, Wang added.
On Friday, Chinese Foreign Minister Wang Yi warned "relevant parties" not to put disputes, including territorial controversies, into the G7 summit.
If certain countries deliberately put historical issues or even disputes over territorial sovereignty into the G7 summit, it will harm regional stability instead of helping resolve the issues, which is obviously undesirable, the Chinese minister said.