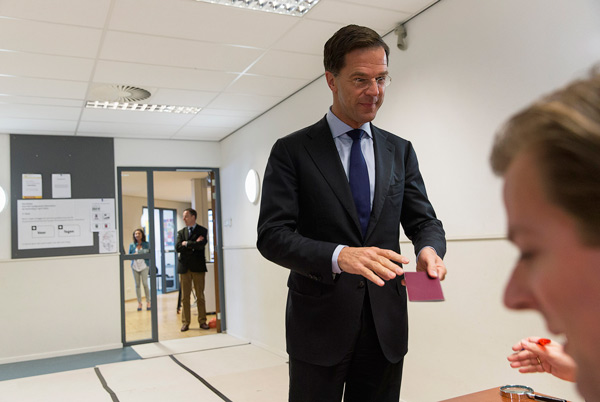 Dutch Prime Minister Mark Rutte presents his passport before he casts his vote for the consultative referendum on the association between Ukraine and the European Union, in the Hague, the Netherlands, April 6, 2016. [Photo/Agencies]
THE HAGUE - The Dutch government has to respect the resounding "No" in a non-binding advisory referendum on the Ukraine-European Union (EU) Association Agreement and will discuss the issue with related departments in the country and the EU, the government said.
Dutch Prime Minister Mark Rutte said in response that "The Netherlands will now not ratify the deal just like that." "We take it step by step. We need to discuss this first in the government, in parliament and with our partners in Brussels," which will take days or weeks.
"If the turnout is above 30 percent with such a large margin of victory for the 'No' camp, then my sense is that ratification can't simply go ahead," he said.
After 98.7 percent of the votes counted, around 61 percent voted against the agreement, while almost 38.2 percent voted in favor of the deal and 0.8 percent voted invalid. The turnout of 32.2 percent is above the 30 percent needed to make the referendum valid.
The electoral committee will officially announce the referendum result on April 12.
The referendum was the first since a 2015 law made it possible to force through plebiscites by gathering 300,000 signatures on the Internet, which was criticized by some as an instrument for anti-establishment forces. A campaign in The Netherlands last year gathered 420,000 signatures in a short time.
The question now is how the Dutch government will deal with the "No," how the other 27 member states and Ukraine will respond to the outcome and what the Dutch rejection means for the agreement.
"It will be politically problematic if the government decided to ignore the outcome," Antoaneta Dimitrova, associate professor at the Institute of Public Administration at Leiden University, told Xinhua.
"We can not draw safe conclusions on how the Dutch people see the association agreement with Ukraine," said Dimitrova.
"There has been little debate concerning the treaty itself. The Dutch government will find it difficult to negotiate amendments to the treaty with Brussels as it will be little known what the Dutch people objected to in relation to the treaty itself," she explained.
The Ukraine-EU Association Agreement is a treaty between the EU and Ukraine on political, economic and a broad range of legislation and regulation topics. The EU has similar agreements with Turkey, Chile and Morocco, and a number of other countries.