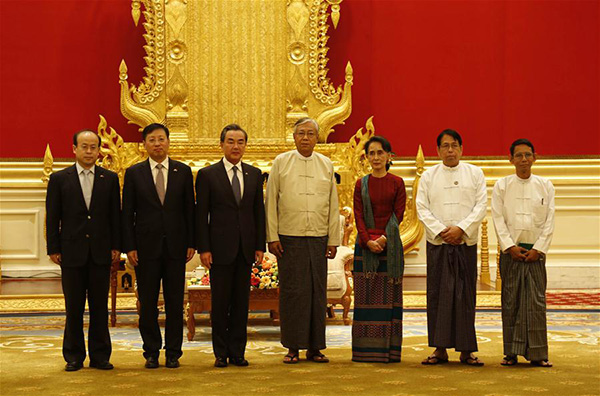 Foreign Minister Wang Yi (3rd, L), Myanmar President U Htin Kyaw (4th, R) and Foreign Minister Aung San Suu Kyi (3rd, R) pose for group photos in Nay Pyi Taw, Myanmar, on April 6, 2016. [Photo/Xinhua]
NAY PYI TAW - China and Myanmar pledged Wednesday to further develop traditional friendship and deepen cooperation between the two countries.
While meeting with Myanmar President U Htin Kyaw, visiting Chinese Foreign Minister Wang Yi first conveyed him the greetings from Chinese President Xi Jinping.
"Myanmar has achieved the smooth transfer of the government and the Chinese leadership entrusted me with visiting this country at the first moment, highlighting the importance China attaches to the new government of Myanmar."
China hopes and believes that Myanmar's ruling National League for Democracy will sincerely cooperate and join hands with all parties to open up a new future for the country, the Chinese foreign minister said.
China will always pursue good neighbourly policy toward Myanmar and is willing to develop the traditional friendly relations with Myanmar's new government, strengthen the high-level exchanges, boost political trust and further deepen the comprehensive strategic cooperative partnership between the two countries, wang said.
The two countries, which are joined by rivers and mountains and complementary in economy, are natural cooperation partners, and China, based on Myanmar's actual development requirements, is willing to dovetail its own development strategies with those of Myanmar and actively exploit the further cooperation in the sectors of people's livelihood, production capacity and infrastructure, the Chinese foreign minister said.
China is also willing to paly a positive role in pushing the peace talks in northern Myanmar in accordance with the country's desire, Wang added.