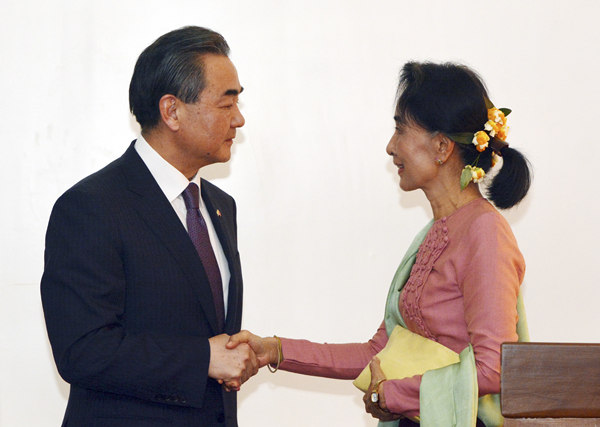 Foreign Minister Wang Yi greets Aung San Suu Kyi, Myanmar's new foreign minister and leader of the National League for Democracy party, in Naypyitaw, Myanmar, on Tuesday. [Photo/Agencies]
Chinese Foreign Minister Wang Yi is paying an official visit to Myanmar on Tuesday and Wednesday at the invitation of Myanmar's new Foreign Minister Aung San Suu Kyi.
Myanmar's new government was sworn in on March 30, turning a new page in the country's political landscape and sparking speculation about issues ranging from domestic reform to foreign diplomacy, in particular, how the new government will handle its relations with major international players, including China.
Wang's visit, which comes less than one week after the inauguration of Myanmar's new government, shows the two neighbors continue to attach great importance to bilateral ties, and both countries are seizing the opportunity to engage and connect with each other after Myanmar's political transition.
Nyunt Maung Shein, chairman of the Myanmar Institute of Strategic and International Studies, believes Myanmar's new government will pursue friendly ties with China, as good relations with its neighbor are important in the economic, diplomatic and security fields.
Hong Liang, Chinese ambassador to Myanmar, said he is confident in the future of China-Myanmar ties and believes a stable and economically developed Myanmar contributes to China's economic and security interests.
On March 15, Chinese President Xi Jinping was among the first group of world leaders to congratulate U Htin Kyaw upon his election as Myanmar's new president.
These show Myanmar will continue to occupy an important place in China's peripheral diplomacy.
Since Myanmar embarked on the road to democratization in 2011, some in the West have drummed up the rhetoric that "China's clout in Myanmar is waning". In recent years the suspension of several large Chinese-financed projects in Myanmar, especially the Myitsone hydropower dam in northern Myanmar, has fueled such speculations.
Admittedly, problems have cropped up between the two countries in the past few years.
China has endured economic losses when Myanmar stalled these projects, and last year, fighting in Kokang, northern Myanmar, twice spilled over the border into China. The airstrikes launched by Myanmar's government forces targeting rebels killed five and injured more than a dozen Chinese citizens.
On the other hand, there is anti-China sentiment in Myanmar too, and bias against Chinese investments is not rare due to misunderstandings and for historical reasons.
However, both countries need to look beyond these incidents and jointly usher in a win-win situation so bilateral ties can grow.
Sharing a border of more than 2,000 kilometers with Myanmar, it is in China's economic and security interests that Myanmar realizes domestic political reconciliation and boosts its economic and social development.
Statistics show about one-third of Myanmar's foreign trade goes to China, and Chinese investments account for one-third of the total foreign investment in Myanmar.
Obviously, China and Myanmar have everything to gain from engaging with each other.
As Shein of the Myanmar Institute of Strategic and International Studies rightfully pointed out, there are broad prospects for bilateral cooperation in the future.
Apart from enhancing ties in energy and infrastructure, the two countries can also work more closely in non-traditional security fields, such as drug trafficking, human trafficking, arms smuggling and cross-border crimes.
An agreement signed in 1997 between the two sides on management and cooperation in the border areas should be fully and strictly observed. Issues that threaten peace and stability along the borders area should be addressed through joint efforts.
Since 2013, Chinese enterprises operating in Myanmar have deemed corporate social responsibility a priority, and they have tried to reach out to a wider cross-section of Myanmar society for better understanding.
We have reasons to believe that with the efforts of both sides, China and Myanmar will carry forward their old tradition of friendship and deepen their reciprocal cooperation.
The author is deputy editor-in-chief of China Daily Asia Pacific. jasmine@chinadailyhk.com