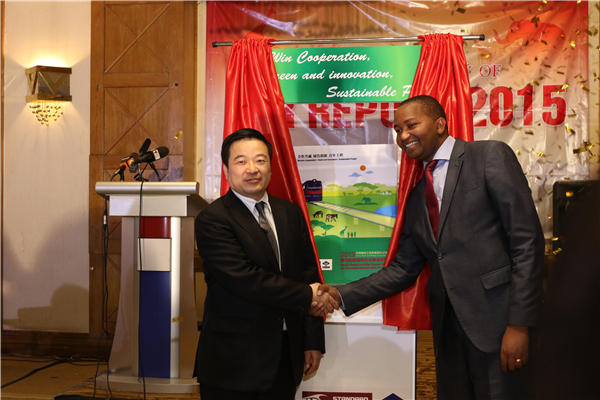 Wilson Irungu Nyakera(right)shakes hands with Wen Gang, Chairman of CRBC.[Photo by Liu Hongjie/chinadaily.com.cn]
China Road and Bridge Corporation (CRBC), the builder of the 472 km Mombasa-Nairobi Standard Gauge Railway (SGR) has launched its Corporate Social Responsibility (CSR) Report 2015 on the railway project in Nairobi.
CSR is defined as the voluntary activities undertaken by a company to operate in an economically, socially and environmentally sustainable manner.
It is the first project report released overseas by a Chinese company. The company hopes the report would enhance communication and understanding between CRBC and the public.
During the ceremony, speakers commended the high standards set by the company in its Kenyan operations especially in the inclusion of local content, saying that it has not only accelerated the construction pace but has significantly contributed to the growth of the economy.
"CRBC is bold in releasing this report and it shows its intention to include local content was well thought out and expected even before the commencement of the project," says Wilson Irungu Nyakera, the Principal Secretary of Transport.
He notes that when the contract was inked in 2012, there was no provision for local content but this has since been amended in progressive contracts with international firms. "But CRBC agreed to the 40 percent inclusion and has promised to increase it to about 47 percent. What is more commendable is that they are seeking ways to increase this even further," says the senior government official during the launching ceremony.
On his part Wen Gang, Chairman of CRBC says they understand the attention the project has drawn regionally and internationally and there is every intention to pool together experts and advanced technology to make it a world-class project.
"This is a project for the people and by the people. That is why CSR is important," says Gen (Rtd) Jeremiah Kianga, Chairman of Kenya Railways. "Future projects can be benchmarked using the CRBC project since they have set very high standards."
Also present was Shen Jianguo, Inter-regional adviser of the UN-HABITAT, United Nations Agency for Human Settlement, Chairman of National Land Commission Muhammad Swazuri and CRBC independent consultants.
The CSR report details the firm's engagements in Kenya in various sectors such as water, education, environmental conservation, infrastructure, health and economic empowerment, among others.
The government estimates the contribution made by SGR's construction to the economy at 1.5 percent growing to 2 percent when completed and running midway through next year. So far it has created 38,000 jobs and trained 19,000 workers and 4,000 technicians.
The training program for operation and maintenance of the SGR project is underway. The first batch of 25 students out of a total of 60 sponsored through CRBC scholarships will be leaving for China to study railway engineering as undergraduates for four years, creating a pool of talent for railway development not just in Kenya but regionally.
SGR is a key inter-country infrastructure project meant to improve the transport of freight and passengers within the Northern corridor. The project was conceptualized under a tripartite agreement that brings together Uganda, Rwanda and South Sudan.