China, 5 other nations to boost connectivity, use of river resources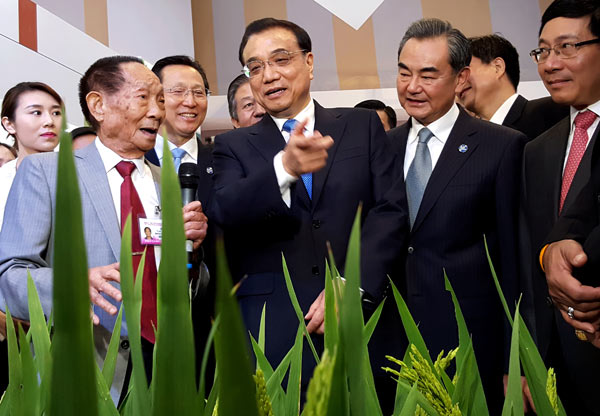 Premier Li Keqiang consults with Yuan Longping (left), known as "the father of hybrid rice", during an exhibition on Lancang-Mekong cooperation in Sanya, Hainan province, on Wednesday. WU ZHIYI / CHINA DAILY
China and five other countries along the 5,000-km Lancang-Mekong River agreed on Wednesday on a sweeping plan to deepen cooperation and build a comprehensive connectivity network covering railways, highways, waterways, ports and aviation.
China also promised 10 billion yuan ($1.54 billion) in preferential loans and a credit line of $10 billion to support infrastructure and production capacity projects in cooperation with the countries.
Premier Li Keqiang announced the loans and the agreement in Sanya, Hainan province, at the first meeting of the leaders from the six countries along the river.
The Lancang-Mekong Cooperation Leaders' Meeting also discussed the use of water resources, and China vowed to take measures to support improvement of living conditions in downstream areas along the river.
The Mekong River, whose upper part is known in China as the Lancang River, is an important water source for the five countries on the Indochinese Peninsula — Laos, Myanmar, Thailand, Cambodia and Vietnam — and it nourishes a population of 326 million.
Beijing announced last week that it will provide an emergency water supply through April 10 to countries along the river to deal with drought.
"That demonstrates China's sincerity toward improving living conditions in countries along the Mekong River," Premier Li said at a joint news conference after the meeting.
He announced that China will use $200 million from its South-South Cooperation Assistance Fund to help the five nations to realize the targets set in the United Nations' 2030 Agenda for Sustainable Development. China also will provide $300 million to support small and medium-sized cooperation projects proposed by the six countries.
Additionally, it will set up a Lancang-Mekong water resources cooperation center and an environmental cooperation center to promote green development.
Li suggested holding leaders' meetings every two years, foreign ministers' meetings every year and occasional meetings of high-ranking officials and working teams.
Thai Prime Minister Prayut Chan-o-cha, who co-chaired the meeting with Li, called the gathering a "new chapter" in the Lancang-Mekong cooperation process.
Former Chinese ambassador to Cambodia Zhang Jinfeng said, "The mechanism will not only benefit the six nations, but also boost the integration of the Association of Southeast Asian Nations."
China is the biggest trading partner of Cambodia, Myanmar, Thailand and Vietnam, and the biggest source of investment in Cambodia, Laos and Myanmar. China's bilateral trade with the five nations reached $193.9 billion last year.
Contact the writers at zhangyue@chinadaily.com.cn