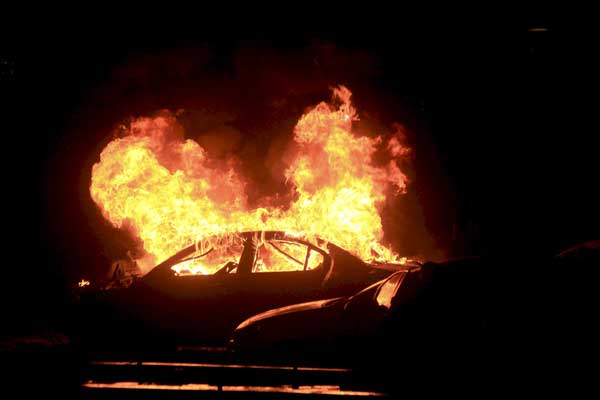 A vehicle burns after an explosion in Ankara, Turkey, March 13, 2016. [Photo/Agencies]
ANKARA - A car bomb killed at least 27 people at a crowded transport hub in the Turkish capital of Ankara on Sunday and wounded at least 75 more, the second such attack in the administrative heart of the city in less than a month.
The blast, which could be heard several kilometres away, sent burning debris showering down over an area a few hundred metres from the Justice and Interior Ministries, a top courthouse, and the former office of the prime minister.
Police helicopters hovered overhead as a large cloud of smoke rose over the city centre.
One senior security official said initial findings suggested the attack had been carried out by the Kurdistan Workers Party (PKK) or an affiliated militant group, but there was no immediate claim of responsibility.
The government blamed the PKK and Kurdish militants in Syria for the previous car bombing just a few blocks away on Feb 17, which killed 29 people, most of them soldiers. That attack struck near Turkey's military headquarters, parliament and other key government institutions.
President Tayyip Erdogan spoke with Interior Minister Efkan Ala by telephone after Sunday's blast, presidential sources said.
"A total of 27 of our citizens were killed when a car exploded at Kizilay's Guven Park, and close to 75 of our wounded citizens were taken to various hospitals for treatment," the Ankara governor's office said in a statement.
A second senior security official said gunfire was heard after the blast.