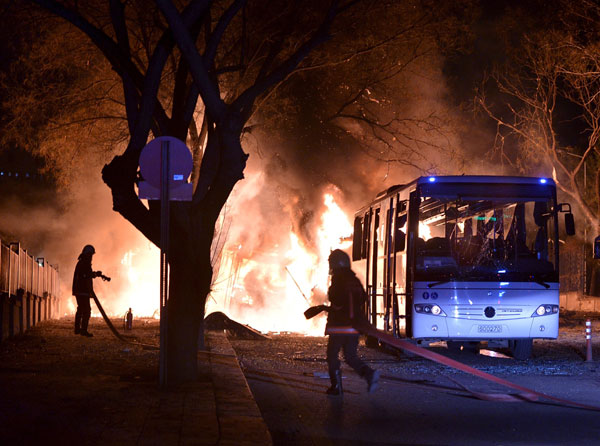 Firefighters prepare to extinguish fire after an explosion in Ankara, Turkey February 17, 2016.[Photo/Agencies]
Beijinghas voiced strong opposition to terrorism after the deadly attack in Turkish capital Ankara on Wednesday, which killed at least 28.
Turkish authorities have identified the suicide bomber behind Wednesday's the attack as a Syrian national, local Sabah Daily reported on Thursday.
The bomber, Saleh Nejar, is believed to have entered Turkey along with Syrian refugees, the report said.
In a response to the attack, Foreign Ministry spokesman Hong Lei said: "China opposes terrorism of any form.
"China has consistently called upon relevant parties to strengthen coordination in the anti-terrorism field and ensure regional peace and stability".
Yin Gang, a senior research fellow on Middle East affairs at the Chinese Academy of Social Sciences, said the attack "cannot be attributed to the refugee boom itself".
Although the bomber has been reportedly recognized as a Syrian national, "it remains to be seen which group or force is behind him" as there are still al-Qaida, Islamic State and other extremist groups in Syria, Yin said.
The tourism industry in Turkey has long been challenged by the security situation and political tension.