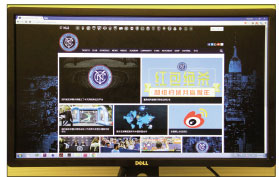 Home page of the Chinese version of the New York City Football Club website Long Yifan / For China Daily
The world keeps getting smaller when it comes to the world's game.
New York City Football Club (NYCFC), which plays Major League Soccer (MLS) in the United States, this week launched a website in Chinese and a platform on the Chinese social media site Weibo.
The rollout came on the Lunar New Year on Monday.
According to NYCFC, the site and platform are the only ones in the Chinese language in the US' top professional soccer league.

"The Chinese community is important to New York City FC as we continue to gain supporters from New York City's local Chinese groups and increase our global fan base from locations abroad," NYCFC President Tom Glick said in a statement. "We are proud that our new platforms will allow us to interact with our Chinese-speaking supporters.
"We are also fortunate that our home is New York City, a place where 1 million Chinese tourists travel every year. We are seeing 'soccer tourism'increase tremendously, so we welcome these visitors to come to one of our matches at Yankee Stadium while they are enjoying the world class shopping, dining and sightseeing that New York City has on offer."
The Chinese touches are probably no coincidence.
China Media Capital, a Shanghai-based consortium of media, entertainment and sports companies, announced on Dec 1 that it had taken a 13 percent stake in City Group Ltd for $383 million.
City Group Ltd (majorityowned by the Abu Dhabi United Group) owns the lucrative Manchester City Football Club of England's Premier League and also holds an 80 percent stake in NYCFC. The New York Yankees own the other 20 percent.
"I think the rationale of this decision is twofold: the massive growth and interest in football in China and the fact that the MLS starts being quite an entertaining/ exciting league," Andrea Sartori, head of KPMG's sports practice, told China Daily.
Sartori cited KPMG's FootballBenchmark. com, which studies the economics of soccer, in its report released on Tuesday about NYCFC's sister club in England titled: Manchester City FC: From Zero to Hero: "The recognized on-andoff pitch success and the global exposure of the Manchester City brand surely encouraged the recent acquisition of a 13 percent stake … by a Chinese media, entertainment and sports consortium (China Media Capital).
"This investor has a strong presence in Chinese football, being the owner of exclusive media rights to both the Chinese Super League and the China Football Association. The deal has the declared purpose of leveraging the potential for the growth of all the clubs of the group in light of massive growth and interest in football in China."
NYCFC, which also maintains a Spanish-language site,features several international stars on its current roster, such as David Villa, the leading scorer in Spain's 2010 World Cup championship run and a transfer from Atletico Madrid; Italian international Andrea Pirlo, a transfer from Juventus of Italy's Serie A who starred for Italy's 2006 World Cup champions; and Frank Lampard, an England international who scored 211 goals for Chelsea of the Premier League from 2001 to 2014.
NYCFC is managed by former French international Patrick Vieira, a key member of France's 1998 World Cup and 2000 Euro champions and a mainstay for Arsenal of London in the late 1990s.
Chinese money also has been flowing around the world in an eff ort to bring world-class soccer players and coaches to the Chinese Super League (CSL), particularly from Brazil. The most recent transaction was the signing by CSL's Jinangsu Suning of Brazilian striker Alex Teixeira for $56 million, announced on Feb 5.
The deal was a record figure for the CSL, pushing its spending in the current transfer window to $292 million, surpassing the Premier League.
The NYCFC Chinese website can be found at nycfc.com/china.
Contact the writer at williamhennelly@chinadailyusa.com