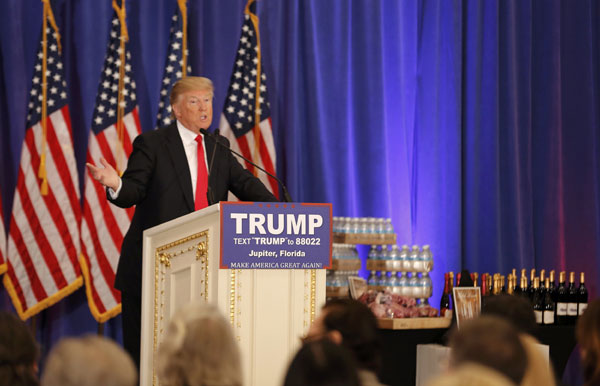 Republican US presidential candidate Donald Trump speaks in front of a display of Trump water, wine and steaks as he talks about the results of the Michigan, Mississippi and other primary elections during a news conference held at his Trump National Golf Club in Jupiter, Florida, March 8, 2016.[Photo/Agencies]
MONROE, N.C., - Republican leaders opposed to Donald Trump becoming the party's US presidential candidate warned on Wednesday that the billionaire businessman could become unstoppable if he wins two crucial nominating contests next week.
One of Trump's fiercest critics in the Republican Party, US Senator Lindsey Graham, said that if the billionaire businessman extends his winning streak into crucial contests next week, the New Yorker's path to the nomination was all but inevitable.
"I'm worried that if we lose Florida and Ohio he may be unstoppable," said Graham, a former Republican candidate who was among the party's large field of early White House hopefuls.
With victories in nominating contests on Tuesday in three out of four states, Trump maintained his lead over the three remaining challengers in the race to be the Republican candidate in the Nov. 8 presidential election.
On the Democratic side, Hillary Clinton's surprise loss to Bernie Sanders in the important Michigan primary laid bare growing voter anger over trade, raising warning flags for her ahead of a possible election showdown against Trump.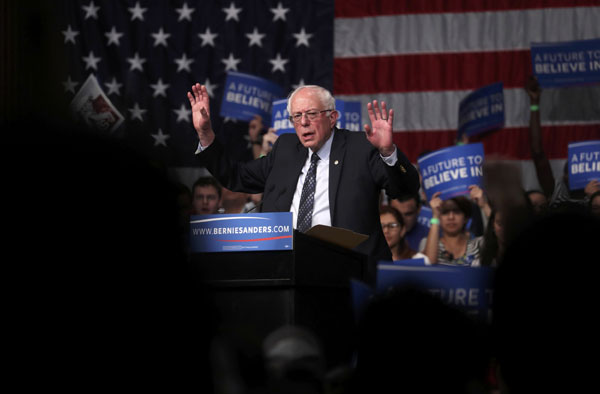 Democratic US presidential candidate Senator Bernie Sanders speaks to supporters on the night of the Michigan, Mississippi and other primaries at his campaign rally in Miami, Florida March 8, 2016.[Photo/Agencies]
On Wednesday, the often-combative Trump struck a more conciliatory tone toward the Republican establishment that has fiercely resisted his advance - first by backing favorite candidates who failed to win votes, then by pouring money into campaigns against him.
"If we embrace what is happening and everyone came together, instead of spending all this money on these ads ...," Trump told Fox News. "If everyone came together, no one could beat the Republican Party. We would walk into Washington."
He also praised US House of Representatives Speaker Paul Ryan after speaking with him by phone this week, calling the Republican leader a "good man."
Trump, 69, fended off a week of attacks from the party's establishment and defied predictions his campaign might be losing steam with his primary wins on Tuesday in Michigan, the biggest prize of the night, as well as Mississippi and Hawaii. His closest challenger, Senator Ted Cruz of Texas, won Idaho.
Trump's convincing win in Michigan narrowed prospects for the party's anti-Trump forces to stop him before next Tuesday's contests, which also include Illinois, North Carolina and Missouri.
Trump now has 458 of the 1,237 delegates needed to win the nomination, with Cruz second with 359 delegates, according to the Associated Press. Rival Marco Rubio trails with 151 delegates, while John Kasich is far behind with 54.