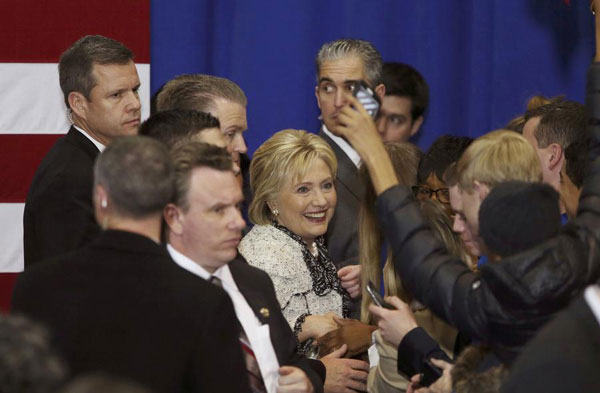 Democratic US presidential candidate Hillary Clinton smiles while surrounded by US Secret Service agents as she thanks supporters after speaking about the results of the South Carolina primary at a primary night party in Columbia, South Carolina, February 27, 2016. [Photo/Agencies]
WASHINGTON - Democratic presidential candidate Hillary Clinton on Saturday won the South Carolina primary by a landslide, according to projections by major US TV networks.
Drawing overwhelming support from local African-American voters, Clinton's big win in South Carolina, the first state in this election cycle that features a large proportion of black voters, delivered a blow to Senator Bernie Sanders, as the nomination fight now barrels toward Super Tuesday on March 1, when 11 states will vote on the same day.
Clinton was declared the winner by almost all major US TV networks at the end of the voting.
Early results with 24 percent of all votes counted showed that Clinton led Sanders by over 50 percent, a result consistent with early predictions by various polls before Saturday's primary.
According to exit polls, black voters this time overwhelmingly picked Clinton over Sanders by a 5-to-1 ratio despite their abandonment of Clinton in her 2008 competition with then Illinois Senator Barack Obama.
The big win on Saturday, Clinton's third victory in February's early-voting competitions, appeared to extinguish any doubts among Democrats about Clinton's ability to win party nomination after a crushing defeat in New Hampshire to Sanders.