Washington does not want to see the South China Sea become an issue between China and the United States, US Secretary of State John Kerry said on Tuesday.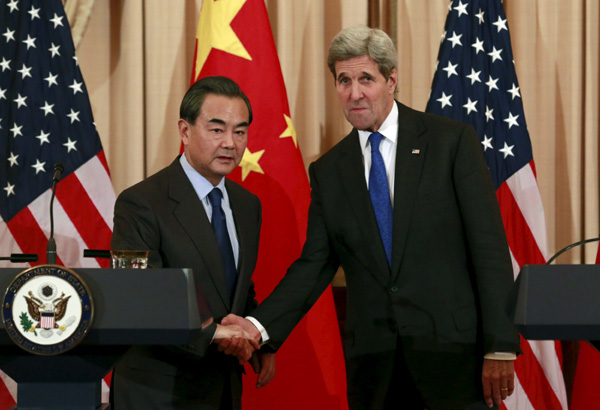 US Secretary of State John Kerry (R) and Chinese Foreign Minister Wang Yi shake hands at a joint news conference after their meeting at the State Department in Washington, February 23, 2016.  [Photo/Agencies]
He made the remarks when meeting Foreign Minister Wang Yi in Washington, according to a press release issued by the Foreign Ministry.
Kerry said the US is willing to carry out smooth interaction with China and does not want the South China Sea to become an issue between the two countries.
Wang said he has met Kerry three times in one month, which reflects the great importance both countries attach to the relationship.
"International media often focus on some problems between China and the US. But in fact, joint interests of the two countries far outweigh our divisions, and the depth and scope of bilateral cooperation far exceed regional friction," Wang said according to the press release.
Bilateral talks, he said, should cover both cooperation and ways to control division.
Wang expected the two countries to speed up negotiations on the Bilateral Investment Treaty and deepen anti-corruption efforts this year.
China supports the US in holding the fourth Nuclear Security Summit in Washington in late March and early April, and welcomes US President Barack Obama's visit to China in September to attend the G20 summit in Hangzhou, he said.
He also made clear China's stance on the Taiwan and the South China Sea issues, and Beijing's opposition to US intentions of deploying the Terminal High Altitude Area Defence system, one of the world's most advanced missile defense systems, in the Republic of Korea.
The two top diplomats also discussed the Korean Peninsula nuclear and Iran nuclear issues and the situation in Syria.
Wang is visiting the US from Feb 23 to 25.