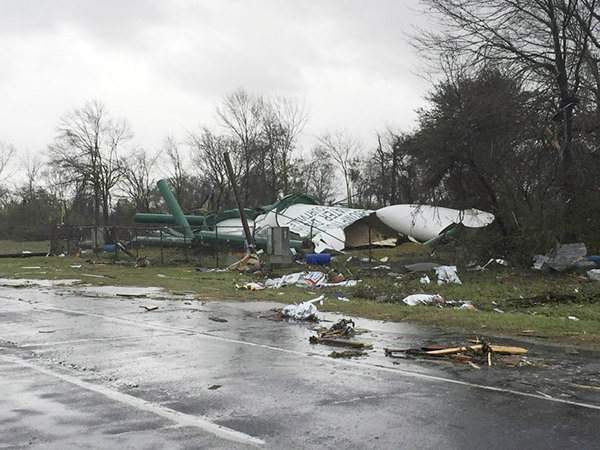 Debris from a damaged water tower is shown in this handout photo provided by Assumption Parish Sheriff's Office, west of New Orleans, Louisiana, February 23, 2016. Several tornadoes cut a swath of damage across southeast Louisiana and Mississippi on Tuesday, injuring at least a dozen people, knocking down a water tower and destroying homes and businesses, according to forecasters and emergency officials. [Photo/Agencies]
BATON ROUGE, La., - Several tornadoes tore through southern Louisiana and Mississippi on Tuesday, killing at least three people and injuring more than 30 others as the storms destroyed homes and businesses and toppled a water tower, forecasters and emergency officials said.
St. James Parish Sheriff Willy Martin Jr. told several local media outlets at least two people were killed and numerous others were injured when an apparent tornado struck the Sugar Hill RV Park in the Louisiana community of Convent, on the Mississippi River about 60 miles (100 km) west of New Orleans.
The Advocate newspaper, citing Martin, said the storm leveled most of the estimated 160 mobile homes in the park, but it was not clear how many residents were home or injured.
The National Weather Service reported one fatality near the Mississippi town of Henleyfield, where it said a mobile home was destroyed.
Acadian ambulance services in Louisiana said it had transported 28 people from the RV park to area hospitals and another three patients from neighboring Assumption Parish, further to the west, according to the agency's Twitter feed.
More severe weather was expected Tuesday evening as the storm system moved eastward, forecasters said.
Weather officials were tracking more than a dozen reports of tornadoes in the region on Tuesday afternoon, said Mike Efferson, a meteorologist at the National Weather Service in New Orleans.
About 31,000 customers were without power in Louisiana, according to Entergy Louisiana, the main electricity supplier in the area.
In Assumption Parish, a tornado knocked down a water tower and damaged homes, said Deputy Robert Martin of the Assumption Parish Sheriff's Office.
Up to 20 homes were reported destroyed, and firefighters rescued residents with minor injuries from four homes, said John Boudreaux, director of Homeland Security and Emergency Preparedness in Assumption Parish.
Residents reported damage to homes from tornadoes and golf ball-sized hail on the Mississippi Gulf Coast as the system barreled across the US South, Efferson said.
"It's still going, and this system is going to continue to have a threat for tornadoes as it moves east through the night into Mississippi and Alabama," he said.
Mississippi Governor Phil Bryan declared a state of emergency for areas expected to be affected by the storm.
Schools and government offices canceled classes or closed early in Louisiana and Mississippi as severe weather warnings lined up from Louisiana to Florida and Georgia.
The Weather Service said Alabama could see tornadoes and hail early Wednesday.
Storms were expected to hit southwestern Georgia by midnight and could reach Atlanta and central Georgia before the morning rush hour on Wednesday, meteorologist Adam Baker said.