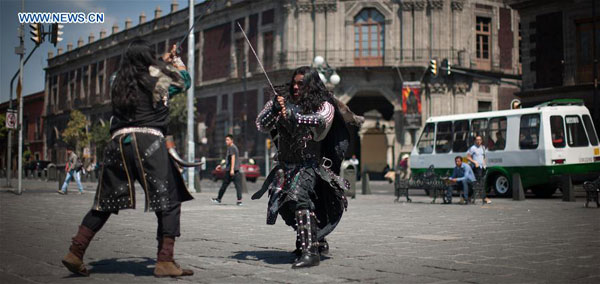 Image taken on Feb 19, 2016 shows performers emulating a combat with swords prior to 5th Marquesa Medieval Festival 2016, at Santo Domingo Square in Mexico City, capital of Mexico, on Feb 22, 2016. [Photo/Xinhua]
MEXICO CITY - Knights, damsels, musicians, dancers and drinks from the Middle Ages will bring visitors back to the past during a festival to be held in April outside Mexico City.
The Marquesa Medieval Festival 2016, the fifth of its kind, is slated for April 15-17 in Valle de las Monjas in central Mexico State, setting an entire village in a medieval European scenario with pitched battles and soldiers in full gear.
The goal is to bring people a touch of history and culture, the organizers told Xinhua on Monday.
Furthermore, visitors will enjoy bagpipe music, catch a glimpse of the Vikings and come across with the medieval beasts, Bianca Ibarra, organizer of the event, told Xinhua.
The event involves some 400 people -- actors, historians, musicians, dancers and arts -- from Mexico, Argentina, Colombia, Peru, among others, according to Ibarra.
"This is a place where the public can come and be brought back to the Middle Ages. It is like getting into a time machine," said Ibarra, who will also act as Queen of the Medieval Festival.
One of the most important activities of the three-day event will be a tournament of hand-to-hand fighting where fighters from across Mexico will face off with sword, axe and spear.
The winning team will be chosen to represent Mexico at the Battle of the Nations, an international medieval fighting tournament to be held in the Czech Republic from May 7 to May 10.