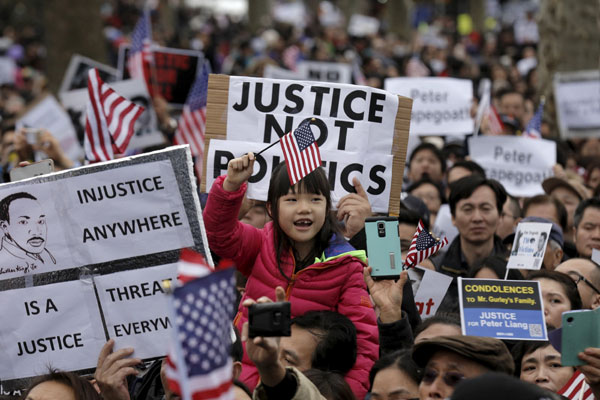 Protesters hold a rally in support of former NYPD officer Peter Liang in the Brooklyn borough of New York February 20, 2016.[Photo/Agencies]
Thousands of people rallied across the country over the weekend to protest the conviction of Peter Liang, a former New York City police officer who was convicted of second-degree manslaughter in the shooting death of an unarmed black man.
The protesters — primarily Chinese Americans — gathered in 40 cities across the US to demonstrate what they see as an unfair conviction of Liang, now 28, who was a rookie cop on patrol in a Brooklyn housing project in 2014 when he fired his gun. A stray bullet ricocheted off a wall, fatally striking Akai Gurley, 28, on a lower floor.
Many protesters in New York — which saw a turnout of approximately 10,000, the largest rally in the country — expressed support for both Gurley and Liang, both of whom they saw as victims of a tragedy.
The protesters carried signs that read, "No Scapegoating," "One Tragedy, Two Victims" and "Condolences to Akai Gurley, Justice for Peter Liang."
"Last week's conviction of NYPD officer Peter Liang in the accidental shooting of Akai Gurley has ignited a vigorous debate across New York City and throughout the country. But one thing is clear in this tragic case — the system failed. It failed both Peter Liang and Akai Gurley," said US Congresswoman Grace Meng at the New York rally on Feb 20.
"The elevator in the Pink Houses should not have been broken; the lights should not have been out in the stairwell," Meng said. "Two rookie cops should not have been patrolling by themselves in New York City, and public housing residents should not have to deal with crime that makes these police patrols necessary. These systematic failures make me so angry and must be addressed. Another tragedy like this must not be allowed to occur ever again."
Liang, who was convicted on Feb 11, could face up to 15 years in prison on the manslaughter count. Sentencing by Supreme Court Justice Danny Chun is scheduled for April 14 in Brooklyn.
Members of the Chinese community said after Liang was charged that they believe he was being scapegoated for past instances of fatal police actions around the country, and that Liang had not intended to kill Gurley and should not have been placed on patrol at the housing project as a rookie officer.
John Chan, president of the Coalition of Asian-Americans for Civil Rights and one of the organizers of the nationwide rally, said Liang was a victim of the selective prosecution that failed to resolve the long-standing distrust and tension between US minority communities and law enforcement.
"Sacrificing Liang is not the correct way to resolve systematic problems of the government," Chan said. "Justice for all means justice for everyone."
Chan appealed to Chinese Americans to fight political manipulation, selective prosecution and scapegoating.
Vivien Chiang, another rally attendee, said she had never met any Chinese individuals calling for civil rights in public during her three years living in New York, and it was the first time she witnessed such unity in the Chinese community.
"Chinese Americans were thought to be a politically passive group," she said, "This time we really voice the deep feelings of ourselves and let the society know our need for equal justice."
"I believe everything that Peter says, and I think he was let down by everyone, starting with his partner," said Gia Vita, a stylist from Harlem. "What kind of coward is he? I've never felt this strongly about anything else."