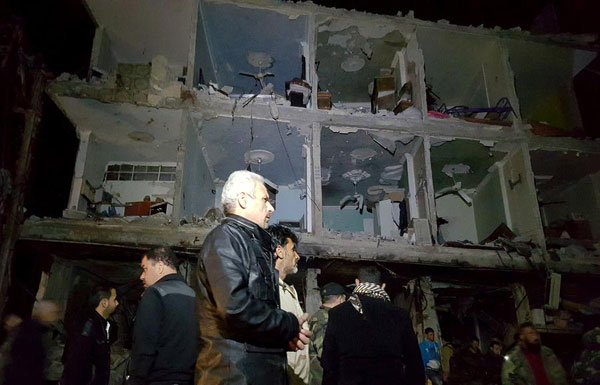 Syrian army soldiers and civilians inspect the site of multiple bomb blasts that hit the Sayyidah Zaynab area, a southern district of Damascus, Syria, February 21, 2016. [Photo/Agencies]
Meanwhile, the group also claimed responsibility for the triple bombings that rocked the Shiite district of Sayyidah Zaynab in south of the capital Damascus, killing 50 people.
The pan-Arab al-Mayadeen TV and Syria official TV said the first explosion was a car bomb, followed by two other explosions by two suicide bombers close to the al-Sader Hospital in Teen Street in that sprawling district.
Sayyidah Zaynab district has a Shiite shrine containing the tomb of Zaynab, Islam's Prophet Muhammad's granddaughter.
The bombings are the latest in a series of explosions targeting the district, guarded by Lebanon's Hezbollah group fighters.
At least 45 people died and 100 others were wounded last month when two explosions shook the same Shiite district.
The Sayyidah Zaynab tomb is a center of religious studies for adherents of the Shiite sect of Islam as well as a mass pilgrimage destination for Shiite Muslims from across the world.
The bombings in Sayyidah Zaynab occurred just a few hours following a series of twin bombings which killed 46 people in the pro-government district of Zahra' in downtown Homs.
The explosions come as the international community is pushing to achieve a cessation of hostilities in Syria to be a base for a political solution to the country's nearly five-year-old conflict.