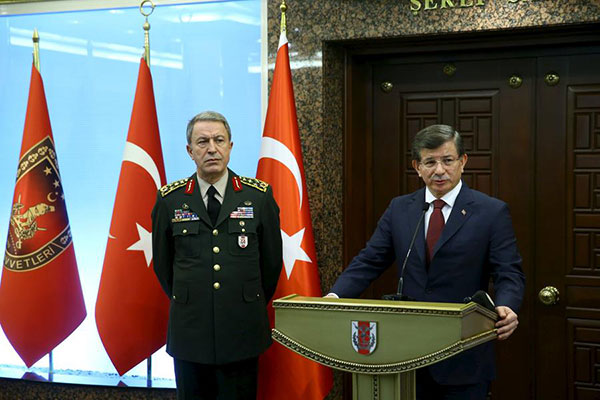 Turkish Prime Minister Ahmet Davutoglu, flanked by Chief of Staff General Hulusi Akar (L), talks to journalists at the Army headquarters in Ankara, Turkey February 18, 2016 in this handout photo provided by the Prime Minister's Press Office. [Photo/Agencies]
ANKARA/ISTANBUL - Turkish Prime Minister Ahmet Davutoglu blamed a Syrian Kurdish militia fighter working with Kurdish militants inside Turkey for a suicide car bombing that killed 28 people in the capital Ankara, and he vowed retaliation in both Syria and Iraq.
A car laden with explosives detonated next to military buses as they waited at traffic lights near Turkey's armed forces' headquarters, parliament and government buildings in the administrative heart of Ankara late on Wednesday.
Davutoglu said the attack was clear evidence that the YPG, a Syrian Kurdish militia that has been supported by the United States in the fight against Islamic State in northern Syria, was a terrorist organisation and that Turkey, a NATO member, expected cooperation from its allies in combating the group.
Within hours, Turkish warplanes bombed bases in northern Iraq of the Kurdistan Workers Party (PKK), which has waged a three-decade insurgency against the Turkish state and which Davutoglu accused of collaborating in the car bombing.
Turkey's armed forces also shelled YPG positions in northern Syria on Thursday, a security source said. Davutoglu said the artillery fire would continue and promised that those responsible for the Ankara attack would "pay the price".
"Yesterday's attack was directly targeting Turkey and the perpetrator is the YPG and the divisive terrorist organization PKK. All necessary measures will be taken against them," Davutoglu said in a televised speech.
President Tayyip Erdogan also said initial findings suggested the Syrian Kurdish militia and the PKK were behind the bombing and said that 14 people had been detained.
The political arm of the YPG, denied involvement in the bombing, while a senior member of the PKK said he did not know who was responsible.
The attack was the latest in a series of bombings in the past year mostly blamed on Islamic State militants.
Turkey is getting dragged ever deeper into the war in neighbouring Syria and is trying to contain some of the fiercest violence in decades in its predominantly Kurdish southeast.
The YPG militia, regarded by Ankara as a hostile insurgent force deeply linked to the PKK, has taken advantage in recent weeks of a major Syrian army offensive around the northern city of Aleppo, to seize ground from Syrian rebels near the Turkish border.
That has alarmed Turkey, which fears the advances will stoke Kurdish separatist ambitions at home. It has been bombarding YPG positions in an effort to stop them taking the town of Azaz, the last stronghold of Turkish-backed Syrian rebels north of Aleppo before the Turkish frontier.
Hundreds of Syrian rebels with weapons and vehicles have re-entered Syria from Turkey over the last week to reinforce insurgents fending off the Kurdish-led assault on Azaz, rebel sources said on Thursday.