Ancient Chinese philosopher Confucius now has a new look for the US market with the ongoing cultural event Hello Kongzi that was co-organized by Shandong Tourism Bureau and Shenzhen Broad Link Culture &Creative.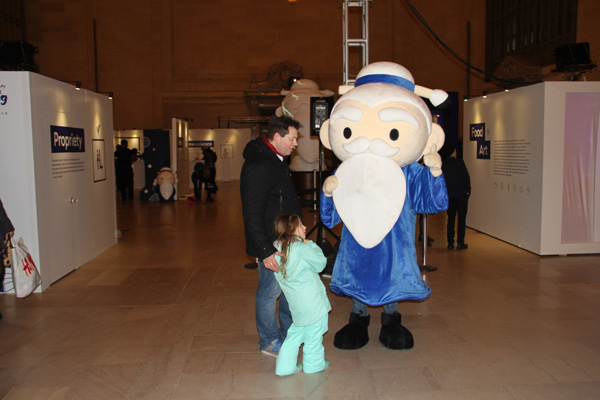 Bowen Nelson, a tourist from England, visited the event of Hello Kongzi at New York's Grand Central on February 17. He said the down-to-the-earth version of Confucius was more accessible to westerners like him and his families. LONG YIFAN/ FOR CHINA DAILY
The event is opening at New York's Grand Central and Times Square until February 19, according to Sha Huang, the public relations coordinator of the event.
The event featured interactive demonstrations of Confucius' ideas.
It included a three-dimensional plastic sculpture of Confucius, a virtual reality experiment zone where you can wear a set of computerized glass-mounted helmets and experience a horse-riding experiment in an ancient Chinese city in the era of Confucius, a quick quiz machine and a virtual dressing screen where you can try on the clothing of ancient Chinese people.
Flo Doukov, a New York-based curator, said Confucius was a lofty ancient philosopher in her memory but the Confucius in this event tended to "more approachable."
" The cute statues matrix at the entrance reminded me of the famous terra cotta warriors but it surprisingly turned out to be Confucius," she said. " They are cute and interesting."
Lucas Strzalec and Nick Pan, two fabricators of the 3D Confucius sculptures, told China Daily that they knew more about Confucius after finishing their work.
Strzales said he had not had any knowledge about Confucius beforehand but he learned Confucius' life and story while researching for the project.
Strzales said they used a sculpturing robot and a white plastic bulk to fabricate the Confucius sculpture with a series of cutting and rimming steps. " We want to make sure the sculpture of Confucius could be as great as his ideas."
Pan, a Philadelphia-based artist, said the combination of modern technology and ancient figure was a brand new experience for him. " Chinese culture was one of the most interesting yet profound spheres that I wanted to demonstrate," he said.
The virtual reality section was one of the most popular parts of the event.
Trina Consantine, a volunteer at the event, said the number of people who had experimented with the virtual reality horse-riding game was "countless" and almost everyone was awed by the accessible and life-based experience by wearing a helmet and holding the electronic horsewhip that could control the speed of the "horse".
Nicella Lagonigro, a local New Yorker, said she would never have thought Confucius could be so adorable and attractive as to be fully accepted and appreciated by the locals.
She said cultural products from other Asian countries were always making inroads with Americans and "this time Confucius followed suit".
Long Yifan in New York contributed to the story.