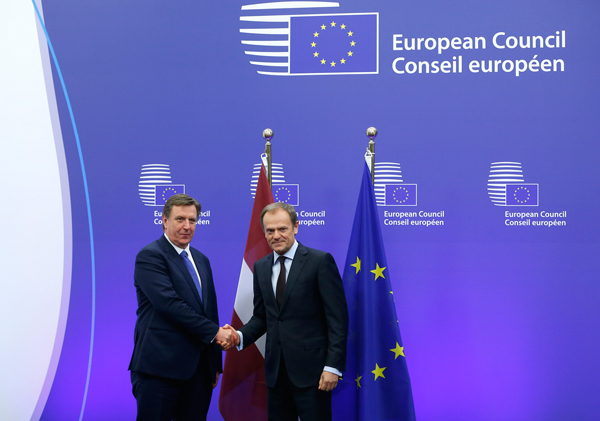 Latvian Prime Minister Maris Kucinskis (L) is welcomed by European Council President Donald Tusk (R) ahead of a meeting at the EU Council headquarters in Brussels, Belgium February 17, 2016. [Photo/Agencies]
BRUSSELS - European Council President Donald Tusk on Wednesday said that there was still no guarantee that an agreement on European Union (EU) reforms to seek Britain to remain in the bloc could be reached at the upcoming summit.
"We differ on some political issues and I am fully aware that it will be difficult to overcome them. Therefore I urge you to remain constructive," said Tusk in the invitation letter to the 28 member states' leaders to attend the EU summit slated for Feb 18-19.
"It would be a defeat both for the UK and the European Union, but a geopolitical victory for those who seek to divide us," he said.
"The objective has been clear from the start: to reach a legally binding and irreversible agreement which addresses UK concerns, while being satisfactory to all. At the same time we will not undermine our fundamental values. It is my goal to do the deal this week," he said.
Concerning the summit agenda, he noted that after the traditional exchange of views with the President of the European Parliament, and the family photo, leaders will address the UK issue at the first working session on Thursday afternoon. This will be an opportunity for all members to state their positions and voice their concerns. Given that they are talking about a legally binding agreement, they will need time to assess all the necessary changes overnight and revert to the issue on Friday morning.