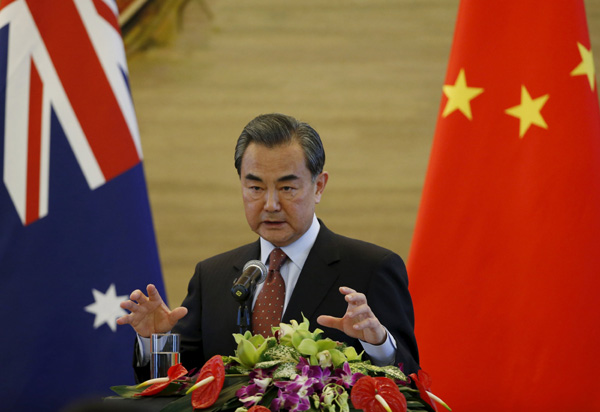 Chinese Foreign Minister Wang Yi speaks at a joint news conference with Australian Foreign Minister Julie Bishop at the Ministry of Foreign Affairs in Beijing Feb 17, 2016.  [Photo/Agencies]
Foreign Minister Wang Yi said China's construction of facilities on its islands is legitimate when asked about reports that China had positioned anti-aircraft missiles on one of its islands in the South China Sea.
Fox News reported on Tuesday that an advanced surface-to-air missile system had been deployed on Yongxing Island in the past week.
Wang told reporters at a press conference with his Australian counterpart Julie Bishop in Beijing that he learnt about the missile reports just minutes before.
"We believe this is an attempt by certain Western media to create news stories," Wang said.
The top Chinese diplomat said he expected global media to pay more attention to the public services China offered in the South China Sea, including construction of lighthouses, weather stations, and rescue and shelter facilities for fishermen.
"All of those are actions that China, as the biggest littoral state in the South China Sea, has undertaken to provide more public goods and services to the international community and play its positive role there," he said.
He said China's construction of "limited, necessary facilities of self-protection" was "consistent with the right to self-preservation and self-protection that China is entitled to under international law, so there should be no question about that".